It's February and that means that you can join the InnerCity Mission to spread Love throughout February by participating in the "Acts of Love" campaign reaching children and families in dire need. These acts of love have the capacity to improve the lives of others forever and make a difference.
Throughout the month of February, we will be showing you simple ways you can make a real impact in your country and your sphere of contact through the "Acts of Love" campaign.
Over the years the campaigns, programs, and initiatives of the Chris Oyakhilome Foundation International (COFI) and the InnerCity Mission have impacted the lives of millions of people in need, mostly children, around the world in hard-to-reach communities. The InnerCity Mission for Children is part of the humanitarian network that falls under the auspices of COFI and was made possible by the founder himself, Chris Oyakhilome.
On the 4th of February, we commemorate the International Day of Human Fraternity and that includes fostering a culture of caring and raising awareness about different cultures and religions, and the promotion of tolerance. Education is a key tool to make this happen, something which COFI recognizes and strives to improve, and is also critical to breaking the cycle of poverty.
The First Act of Love: Gift School Supplies to a Child in Need
Many of the poorest children are barely able to attend school, and those whose parents manage to send them to school cannot afford to buy school supplies. Education is a basic right that helps to build a sustainable future generation. Studies have repeatedly shown a link between poverty and education, where education can break and reverse cycles of intergenerational poverty. The effects of poverty on children are wide-reaching and can lead to lifelong struggles, especially when young people don't receive a full education. That is why through this campaign, a small act of giving can make a huge difference.
Some items you can donate to help these children in need within your community to continue learning are stationery sets, exercise books, backpacks, crayons, glue sticks, erasers, pencils, pencil sharpeners, math sets, and calculators.  The first step to this is to register as a volunteer here.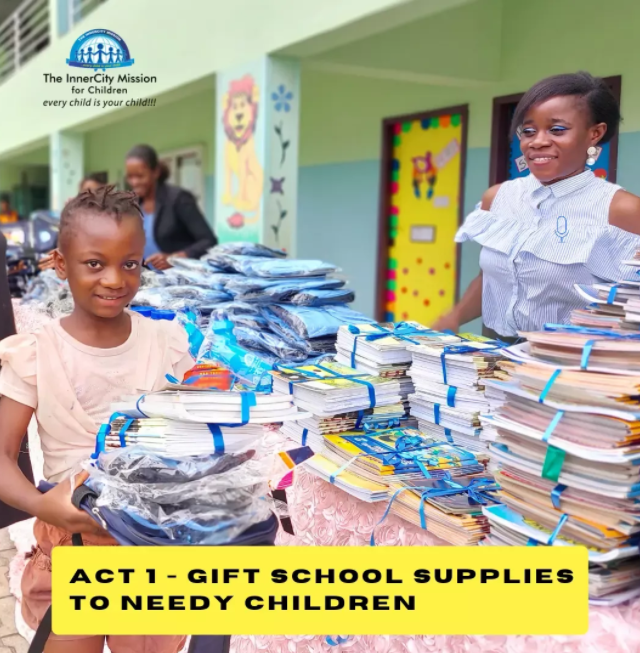 Plans for the Month of February
The last 2 years have had damaging effects on so many people throughout the world. The COVID-19 pandemic was completely unprecedented, unpredicted and the socio-economic impact was devastating on a global scale.
This February is going to be exciting and the InnerCity Mission has great plans ahead.  All through the month of February, we will be stirring the hearts of people all around the world to look beyond their friends and loved ones, and show love to indigent children through the "Acts of Love" campaign. We have put together a practical list of various acts of love you can carry out in and throughout February. These Acts of Love can change lives forever, so make an impact every day and show love to indigent children through the 'Acts of Love' campaign, through the InnerCity Mission (ICM) and Chris Oyakhilome Foundation International (COFI).