Christmas gives us the opportunity to touch lives with God's love and through the 'Send Portions' campaign this is made possible.
Our founding father, Chris Oyakhilome has said in the past: "The fight against poverty isn't about charity, it is about lending your voice to the plight of the indigent in our world. A world free of poverty, where every child has equal opportunities to thrive and fulfill their God-given potentials."
"Be a hand that reaches out! A smile for those who have no reason to smile! Be a light to those who live in darkness! Show them what it means to truly love! Be the InnerCity Mission to the needy around you this Christmas by sponsoring hearty meals and gifts for them."
The InnerCity Mission for children (ICM) falls under the auspices of Chris Oyakhilome Foundation International (COFI). It is a faith-based NGO in consultative status with the United Nations Economic and Social Council. Believing in the future of indigent children and taking action to reach and meet their needs is one of their core functions.
Over the years, their programs and interventions in line with the United Nations Sustainable Development Goals (SDGs) have impacted the lives of over 20 million indigent beneficiaries mostly children around the world in underserved, hard-to-reach communities.
This Christmas, join the InnerCity Mission once again, to spread love, joy & hope through the distribution of super packed Christmas portions to 1 million needy children in slums, inner-cities, IDP camps, orphanages, Children's hospitals, and other child care related institutions around the world, in the annual global, 'Send Portions' campaign.
This Christmas, we are all about demonstrating the love of Jesus and bringing the special cheer and celebration as we send 1 million portions of food, drinks, and gifts to those who don't have anything prepared for them!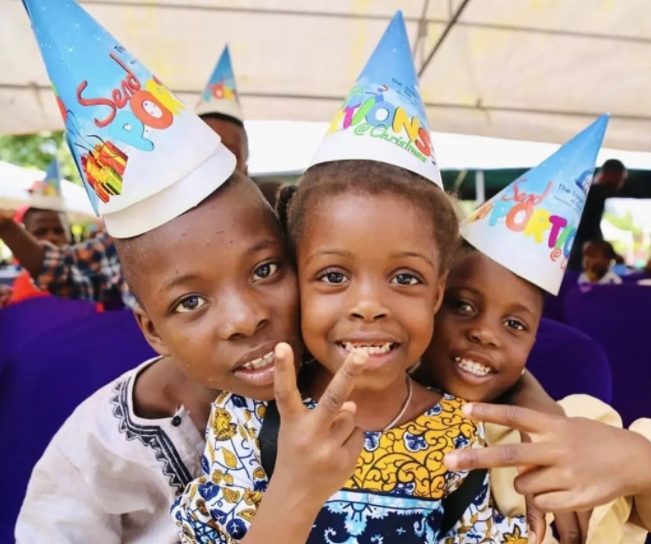 Christmas Comes Early
In the Bible, in Psalms 107:1 it is written: "Let everyone give all their praise and thanks to the Lord! Here's why—he's better than anyone could ever imagine. Yes, he's always loving and kind, and his faithful love never ends." There are lots of reasons to give thanks to God. One of them is the SendPortions campaign, a wonderful opportunity to impact the lives of the poor as we celebrate Christmas around the world. Join us to prepare and distribute 1 million Christmas portions of hearty meals and gifts to indigent children and their families.
Most indigent children who benefit from our Send Portions at Christmas campaign have never had contact with the InnerCity Mission before, hence your sponsorship presents a perfect opportunity for them to be further introduced to other complementary interventions we carry out to impact their lives as well as their families.
The vital work of the InnerCity Mission is only made possible by the dedicated people who selflessly give of their time, talents, and skills to put smiles on the faces of the children and their families in desperate need. The latest initiative to ensure that this Christmas is memorable and does not go unnoticed is 'Send Portions'. Without its partners and volunteers, this amazing and effective organization could not continually deliver the food and education needed to sustain the neglected and impoverished children.
Our #SendPortions campaign presents a unique opportunity for you to be God's outstretched arm of love to indigent children and their families this Christmas. Join us to spread the Christmas cheer by sponsoring portions of meals and gifts today. Make Christmas memorable for indigent children and families for whom nothing is prepared for this season! A Christmas portion costs $3 or its equivalent in your local currency. Donate here, and #MakeADifference #EveryChildisyourChild #EndChildpovertynow