Education is a basic human right, it has the potential to enable children to gain the life skills and knowledge needed to cope with today's challenges and be agents of their own change, yet there are several factors such as poverty and violence limiting millions of children and young people in continents and regions around the world from getting an education.
Children are God's most valuable asset, they are made in God's image and likeness and created to glorify God but how does poverty bring God glory? How can these poor children serve God and praise Him when they can't feed, clothe, sleep, even read?
The InnerCity Mission (ICM), under the auspices of Chris Oyakhilome Foundation International (COFI), welcomes our Esteemed Pastors and Ministers to the Ministerial Bible Training Course with Pastor Chris, as they join in the back to school campaign of sponsoring 100,000 children. Many children affected by the global crisis have been pushed into poverty and may be forced to work because their families are struggling to make ends meet. They may never make it back to school. This September, we will be helping 100,000 children return #BackToSchool through your sponsorship.
Education equips children with the skills and tools to rebuild their lives and futures. In the most trying times, the InnerCity Mission is keeping hope alive for needy children who cannot return back to school due to the global crisis. As schools continue to reopen around the world, many children are excited and looking forward to returning #BacktoSchool. For the indigent child, the school is not just a place to receive an education but a safe space for them to express themselves.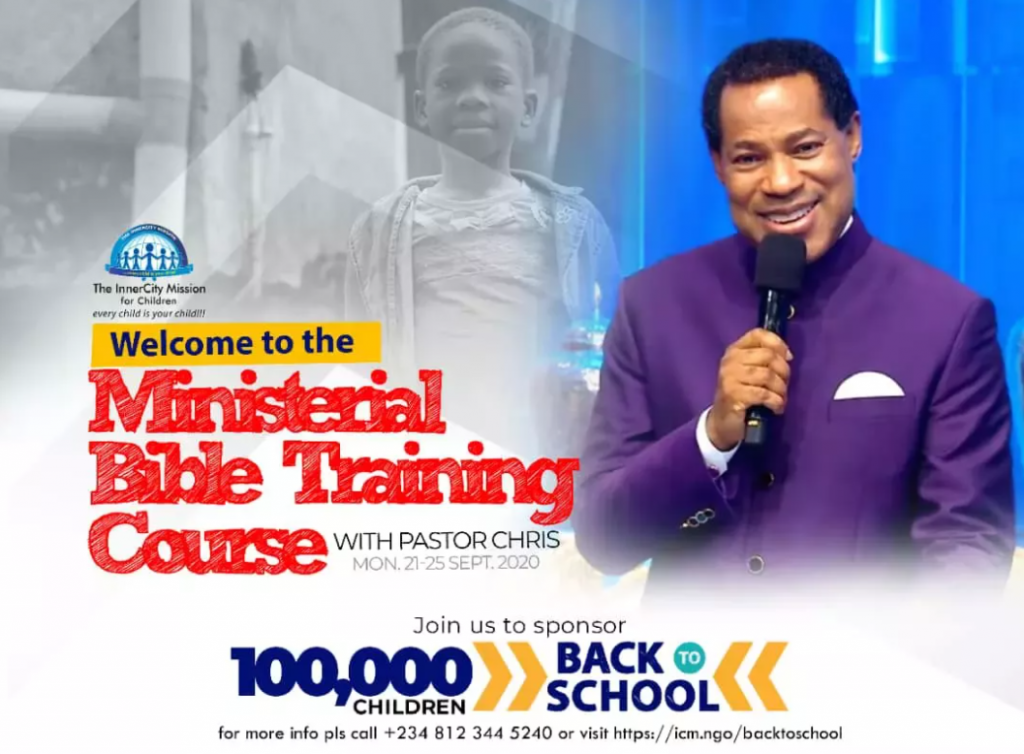 The InnerCity Mission Back-To-School 2020 Campaign
Every child around the world has the right to free basic education and by this, poverty is no excuse. However, while basic education is theoretically free, poor families are saddled with the responsibility of providing other necessary materials to enjoy the "free basic education". Lack of materials such as uniforms, books, exam fees, pens and others further create a barrier to accessing free education for millions of children. Globally, the number of out of school children have drastically increased due to factors such as health crisis with the COVID-19 pandemic,  disasters, terrorist attacks, financial hardship as a result of harsh economy among others. The Back to School Campaign is an initiative of the InnerCity Mission for Children set up to help surmount these barriers thereby enabling deprived and vulnerable children access primary education through the provision of free scholastic materials and executing school development Projects in underserved communities which would improve learning outcomes.
Street children, orphans and children from poor or low-income families are deprived of essential necessities such as education and are at risk of inheriting poverty due to economic pressures.
Rather than being in school, these vulnerable children are forced to enter the labor force just to survive, in such times Education takes the back seat. As a result of violent crisis or natural disasters, displaced children may have missed out on months or years of education, To help them bridge the gap of lost school time, the InnerCity Mission collaborates with the Government and other humanitarian actors on ground to provide these vulnerable children with safe learning spaces and school supplies which are essentials to accelerate education.
Every year, The Back to school campaign helps thousands of disadvantaged children get access to basic primary education for free within their communities by providing them with "back-to-school" kits which include notebooks, school uniforms, backpacks, shoes, stationery and sometimes, tuition. We also carry out community school development projects, such as construction and/or renovation of blocks of classrooms, school furniture donation.
In 2020, through the Back to School Campaign, we are hoping to enroll  100,000 indigent children into schools where the need is greatest.  With your support, we can reach our target.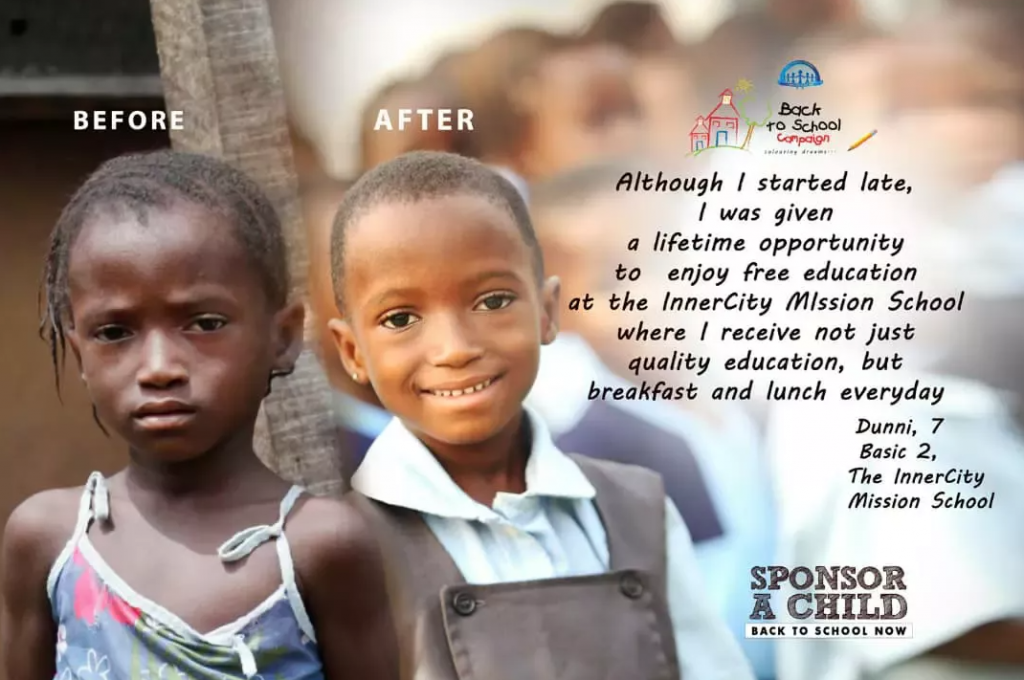 Make a donation today https://icm.ngo/backtoschool #EndChildPovertyNow #EveryChildIsYourChild #BackToSchool