Break the Cycle of Poverty with COFI
We at the Chris Oyakhilome Foundation International (COFI), put a great deal of emphasis on education, which is at the heart of the Sustainable Development Goals, as set by the United Nations. Education is a human right, a public good, and a public responsibility. Through various initiatives, the InnerCity Mission (ICM),  under the umbrella of COFI, and network of partners and volunteers are reaching out to hundreds of thousands of children in needy communities all around the world, to try and provide essential educational materials to enhance learning at home and promote literacy skills, making it easier, more interactive and convenient whilst awaiting the resumption of school. Founding father and humanitarian, Chris Oyakhilome has been famously quoted as saying: "One of the most important things we receive at an early age which sets us up for a successful future is education."
Education can be the catalyst needed to pull families and communities out of the cycle of poverty. Knowledge gives children the power to dream of a better future and the confidence needed to pursue a full education, which in turn will help generations to come.
As we head towards a new academic year we are proud to announce the new school building in Ewu, Edo State. Today is the day of the groundbreaking ceremony of the InnerCity Mission School Project. This is something to be proud of and an achievement worthy of celebrating. The Esteemed Director of the InnerCity Mission (ICM) in the company of staff members have arrived Edo state ahead of the groundbreaking ceremony of the InnerCity Mission school building project under the auspices of the Chris Oyakhilome Foundation International(COFI). This school building project is an addition to the InnerCity Mission network of schools and will benefit needy children in Ewu community and its surrounding environs to achieve their dream of getting a complete primary education at no cost.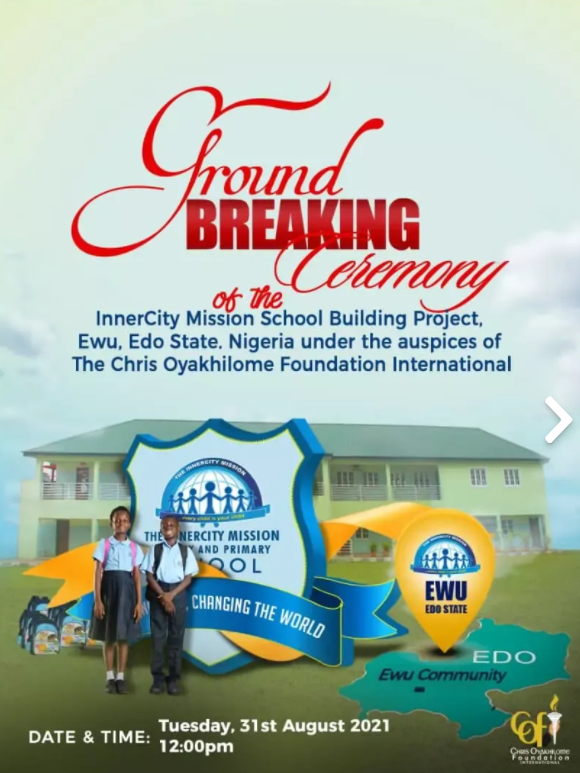 Another Success Story
It was her very first day at school (ICM School – Demsa, Adamawa Campus) and the first time for her to be in the four walls of a classroom as the parents of 6 years Azizat could not afford the cost of giving their child whom they loved dearly, an education. Thanks to Partners, sponsors, and volunteers at the InnerCity Mission, children like Azizat, can now receive free education at the InnerCity Mission network of Schools, which is a ticket out of poverty and deprivation. Join us today to build more schools in locations where the need is greatest, to help indigent children get access to education regardless of the cost.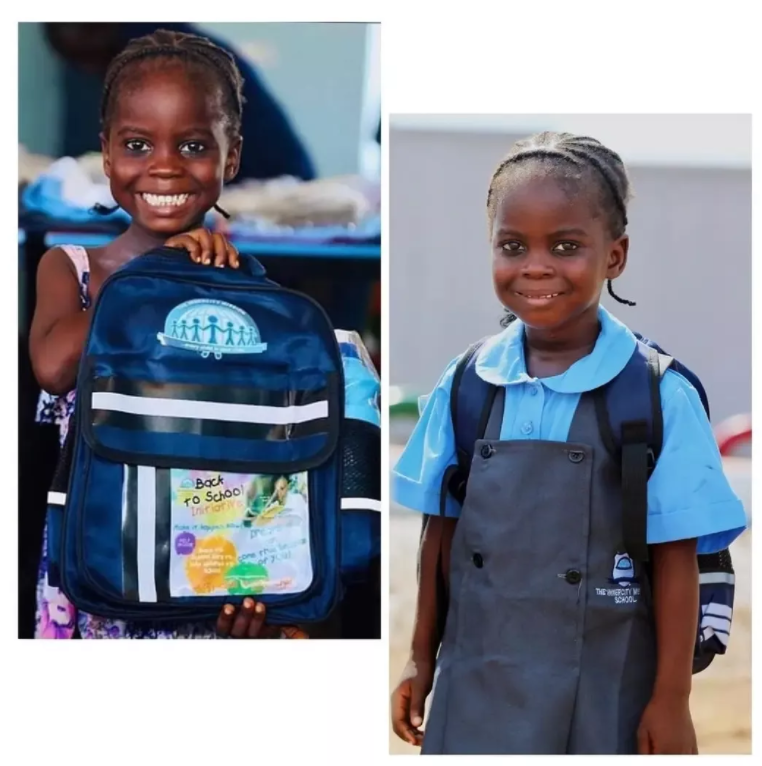 Often, people take advantage of what they get for free, not realizing that this basic need is not something that everyone has access to. In an ever-growing and expanding world, it is clear to see just how important education is to us, our societies, and our economies. Education is that building block that helps to build a sustainable society.
We at COFI and InnerCity Mission wish you all a week full of joy and laughter, be fruitful, productive, and make giant strides. Remember to sponsor a child back to school this week.
Partner with us today to raise more leaders, by sponsoring a child's education in the new school session through our Education Program.
#EndChildPovertyNow #EveryChildIsYourChild