International Day of Rural Women is dedicated to the millions of women living in remote, rural places and celebrates the achievements and contributions of these women toward rural development and agriculture.
Chris Oyakhilome Foundation International (COFI), founded by Chris Oyakhilome in 2004, to benefit the most vulnerable people and communities in some of the poorest countries and regions of the world, strives to make an impact on the lives of those who the world forgets.
Working in partnership with local organizations in both the public and private sectors COFI works to eradicate poverty. The many different NGOs that make up COFI not only work to counter the effects of poverty but to build a sustainable future, this includes achieving gender equality and empowering women, a critical ingredient in the fight against extreme poverty, hunger, and malnutrition.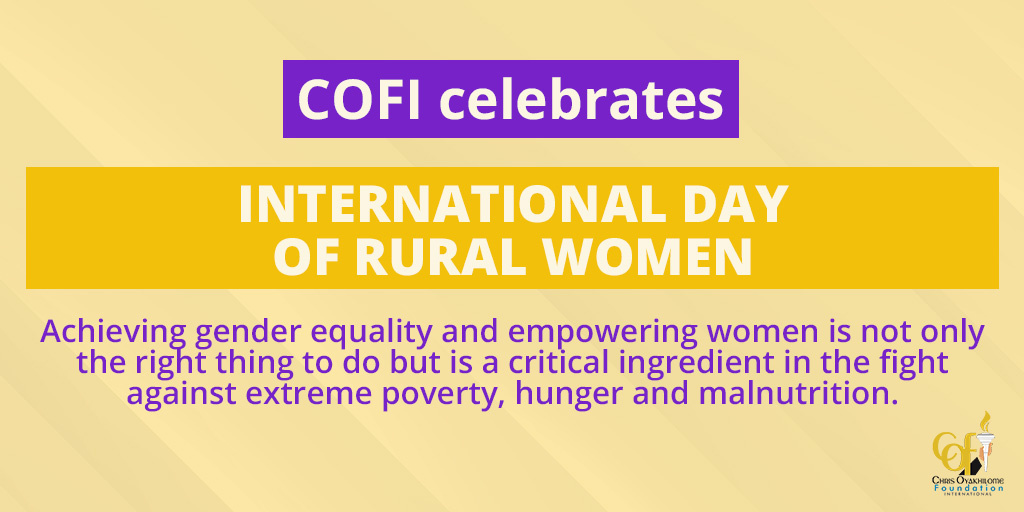 Recognized by the United Nations
Rural women make an invaluable contribution towards development, as recognized by the United Nations and taken off their website:
"The crucial role that women and girls play in ensuring the sustainability of rural households and communities, improving rural livelihoods and overall wellbeing, has been increasingly recognized. Women account for a substantial proportion of the agricultural labor force, including informal work, and perform the bulk of unpaid care and domestic work within families and households in rural areas. They make significant contributions to agricultural production, food security and nutrition, land and natural resource management, and building climate resilience.
Even so, women and girls in rural areas suffer disproportionately from multi-dimensional poverty. While extreme poverty has declined globally, the world's 1 billion people, who continue to live in unacceptable conditions of poverty, are heavily concentrated in rural areas. Poverty rates in rural areas across most regions are higher than those in urban areas. Yet smallholder agriculture produces nearly 80% of food in Asia and sub-Saharan Africa and supports the livelihoods of some 2.5 billion people. Women farmers may be as productive and enterprising as their male counterparts but are less able to access land, credit, agricultural inputs, markets, and high-value agrifood chains and obtain lower prices for their crops.
Structural barriers and discriminatory social norms continue to constrain women's decision-making power and political participation in rural households and communities. Women and girls in rural areas lack equal access to productive resources and assets, public services, such as education and health care, and infrastructure, including water and sanitation, while much of their labor remains invisible and unpaid, even as their workloads become increasingly heavy due to the out-migration of men. Globally, with few exceptions, every gender and development indicator for which data are available reveals that rural women fare worse than rural men and urban women and that they disproportionately experience poverty, exclusion, and the effects of climate change."
Rural Women Adapt to Change
In a recent article taken from Women Watch, a publication on information and resources on gender quality and empowerment of women under the United Nations, there was information on how resilient and resourceful rural women are in times of great economic difficulties, and confronted with the cost of living crisis.
 "Rural women adopt specific behaviors and measures to soften the effects of high food prices on their families:
As traditional food providers and carers for their households, they tend to act as 'shock absorbers', giving their food to their children and their husbands to prevent them from going hungry, and spending more time caring for sick relatives as households cut back on health expenses.
Women also look for more part-time employment or work longer hours on top of their existing jobs and household responsibilities to earn more money for their families. They may also look for additional credit to afford food and other basic necessities, and are susceptible to getting into debt because their lack of access to formal credit may force them to turn to moneylenders, pawn brokers, and other sources of expensive credit. To cope with higher food prices, poor households at times have to sell assets, like livestock, seeds, or tools, which are very difficult to regain. Women's traditional assets, like jewelry and small livestock, tend to be sold first because they are easier to recover later than men's assets such as land and large livestock.
Children are also affected—they may be taken out of school to either be sent to work to supplement the family's income or to help with household chores while their mothers take on additional work. The former is more likely for boys and the latter for girls."
"A woman is the full circle. Within her is the power to create, nurture and transform" – Diane Mariechild