As our website states: "The Chris Oyakhilome Foundation International (COFI) is a faith-based non-governmental, non-political organization under the direction of its visionary and legendary founder, Pastor Chris Oyakhilome. Through the promotion and sponsorship of charitable initiatives, COFI was established to help individuals, communities, and nations lead purposeful and productive lives in the service of the Lord."
Philanthropist and founder of COFI, Chris Oyakhilome made a bold statement:
"You are not a success until you start changing others' lives permanently."
Today is International Day of Charity. Charity is a way of Serving Humanity, Serving Humanity is a way of serving God.  Any small charity that you are going to make ever will shape many lives out there in different ways.
We at COFI and InnerCity Mission (ICM) strive to better the lives of millions of indigent and needy individuals through our various campaigns and initiatives aided by our loyal partners, sponsors, and volunteer, without whom nothing is possible.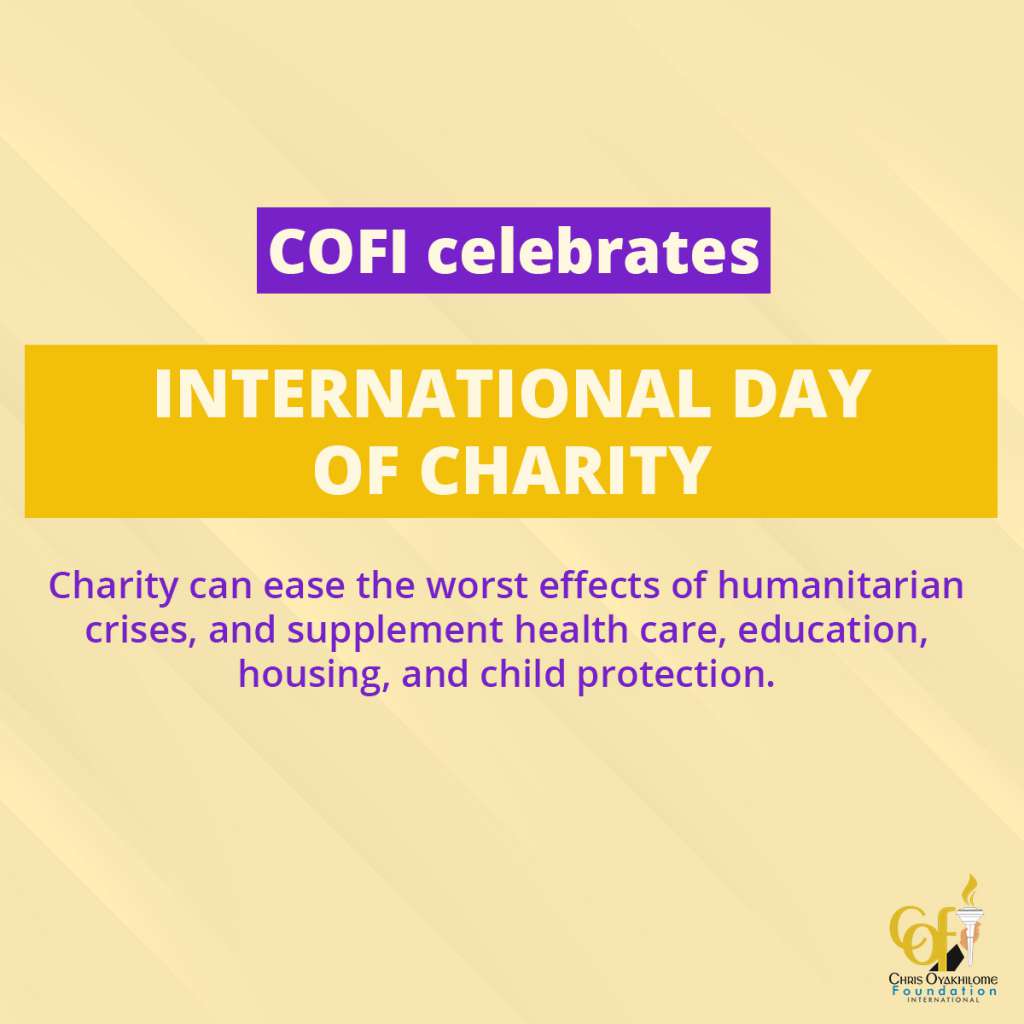 What is Charity?
Charity is vital, as it enables us to reach out to wider parts of society, assisting those who need our help the most. International Day of Charity raises awareness about charity and why it is important to help those who are in need. Charity is defined as a way of voluntarily offering help to someone in need. May be financial giving or service rendering.
The prime purpose of the International Day of Charity is to raise awareness and provide a common platform for charity-related activities all over the world for individuals, charitable, philanthropic, and volunteer organizations for their own purposes at the local, national, regional, and international levels.
The International Day of Charity is observed on September 5 and was established with the aim of sensitizing people, NGOs, and stakeholders to help those in need by participating in philanthropic activities. Doing so would create social bonding. The focuses on creating a common platform for charity across the world.
The specific date, September 5 was chosen to commemorate the death anniversary of Mother Teresa. She received a Nobel Peace Prize in 1979 for "work undertaken in the struggle to overcome poverty and distress, which also constitute a threat to peace."
In the ' 2030 Agenda on Sustainable Development ' adopted in 2015, the United Nations recognizes that eradicating poverty including extreme poverty is the greatest global challenge and requirement for sustainable development. The agenda calls for global solidarity that focuses on the needs of the destitute. The Sustainable Development Goals set in the Agenda can be grouped into six categories: people, planet, prosperity, peace, and partnership. These categories have the potential to transform our lives and our planet by providing the framework needed for philanthropic institutions to enable all people to contribute to the betterment of our world.
Charity can help reduce the effects of humanitarian crises and help with education, housing, and child protection. It encourages cultural advancements and preserving culture and natural heritage, science, and sports. Charities help promote the rights of the marginalized and underprivileged. It harnesses the power of community and teaches the young generation about generosity. Charities bring attention to serious issues and a lot more.
Global Solidarity to Eradicate Poverty
Charity provides real social bonding and contributes to the creation of inclusive societies. It can reduce or remove the worst effects of humanitarian crises, and supplement public services in health care, education, housing, and child protection. Charity also promotes the rights of marginalized and underprivileged communities and spreads the message of humanity.
Mother Teresa once said, "If you can't feed a hundred people, feed just one", a profound statement that is more impactful today than ever before, because every little helps. She also said: "Be faithful in small things because it is in them that your strength lies".
A small act of charity that you do will shape many lives out there in different ways.