School meals are helping to keep indigent children in school, reducing absenteeism caused by hunger. Hunger is more than just having enough food to eat; it's about having enough nutritious food to eat. At the Chris Oyakhilome Foundation International (COFI), we believe that the right to food is a basic human right.
We also strongly believe that education can be the catalyst that breaks the cycle of poverty. Through various initiatives of the InnerCity Mission (ICM), we are reaching out to hundreds of thousands of children in needy communities all around the world, to try and provide essential tools for learning and nutrition for school meals. Knowledge gives children the power to dream of a better future and the confidence needed to pursue a full education, which in turn will help generations to come.
The InnerCity Mission, under the auspices of the Chris Oyakhilome Foundation International, focuses on child nutrition and provides food security for children and families in vulnerable conditions through their feeding program. In partnership with governments, this safety net has the added benefit of bringing children to school and out of hunger. The educational and health advantages reduce absenteeism and improve food security for impoverished families.
Eradicating poverty has always been a top priority at the InnerCity Mission
Chris Oyakhilome, the founder of COFI, has always put a great deal of emphasis on education as a means out of poverty and ending a perpetual cycle of deprivation.
With fewer resources and less of a focus on education at home, children growing up in poverty are disadvantaged from the start. Poverty and education are inextricably linked, because people living in poverty may stop going to school so they can work, which leaves them without literacy and numeracy skills they need to further their careers.
Studies have repeatedly shown a link between poverty and education. Through basic education, marginalized people learn more about health and are better able to protect themselves and their children against diseases. The level of health among children and young people improves if their parents have had an education. This in turn increases their likelihood of receiving, and benefiting from, an education. It is important to remember that improvements in one area, benefit several others, and we need to constantly look for the most effective courses of action.
One of the core programs of the InnerCity Mission for children is child health and nutrition, vital for healthy brain development. A recent study shows that nearly 150 million children worldwide, under the age of 5 are not as cognitively and physically developed as they would have been had they received enough essential nutrients from their diets. When children have daily access to nutritious food, they're able to emerge into their full potential. In this way, school meals are building blocks toward a brighter, more dignified future.
The Knock-On Effect
Even before the COVID-19 pandemic, millions of children were unable to get the education they needed to get ahead in life, but since the pandemic began, hundreds of millions of students have missed school, and consequently school meals due to COVID-19-related school closures. The pandemic has pushed many millions of people into poverty, increased global hunger rates, and could derail the educational paths of millions of children.
The COVID-19 pandemic has resulted in devastating socio-economic disasters, reversing decades of progress in the fight against poverty. As we embark on the post-COVID recovery and get back on track with the Sustainable Development Goals, hunger remains the world's most solvable problem, and yet after decades of steady decline, the number of people who suffer from hunger began to slowly increase again. The world is not on track to achieve Zero Hunger by 2030.
In this context, school meals are a lifeline and provide an incentive to come to school, and a justification to stay in school. Another benefit is that by providing school meals, families are able to save money and achieve greater financial freedom in the future, enabling children to stay in school rather than work to earn an income.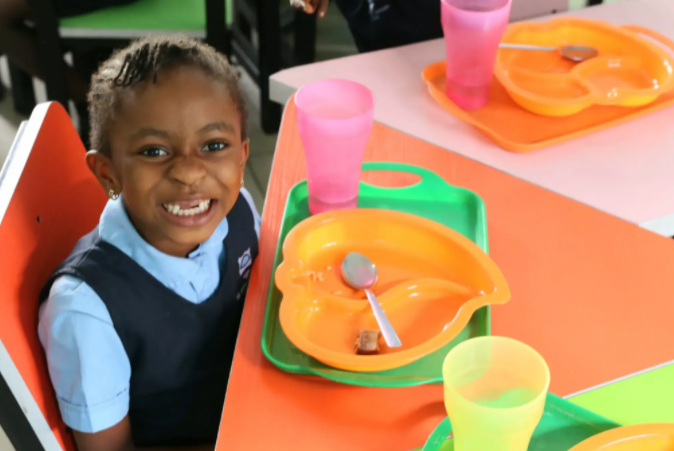 "The meals I eat in school help me concentrate in class and I perform very well." – Assumpta, (Head girl, ICM School Ikeja campus)