Thanks to the vision of our founder, Future Africa Leaders' Foundation hopes "to raise financial, political, technological, intellectual and economic giants who are driven by the challenges in Africa to proffer sustainable solutions." Every year, at the Future Africa Leaders' Awards, Chris Oyakhilome celebrates young African leaders who follow his vision to impact lives and change the future of Africa.
Every year, thousands of young people are masterminding projects to alter the path of people in their communities, and registering their projects as part of the 'Future African Leaders Foundation' (FALF). These leaders work towards multiple sustainable development goals, as defined by the United Nations, and FALF gives them a platform where they can bring to fruition their vision for their community.
Nominations Show
Last week, at the FALA Nominations Show, the global audience heard thirty reports about the activities of this year's nominees. Each one was an account of the exceptional and inspired leadership of a leader who is active now. These real-life heroes come from over 20 different African countries so the impact they are having is reaching all over the continent.
Follow Future Africa Leaders Foundation Superuser on Kingschat to discover all the nominees.
Countdown to FALA 2020
The Future Africa Leaders' Awards will be screened live on December 31st at 9 PM (GMT+1) on all LoveWorld media outlets. During the ceremony, Chris Oyakhilome will honor these young leaders and will inspire them to do greater things. While we wait for the biggest event of the year, let's celebrate together last year's winners.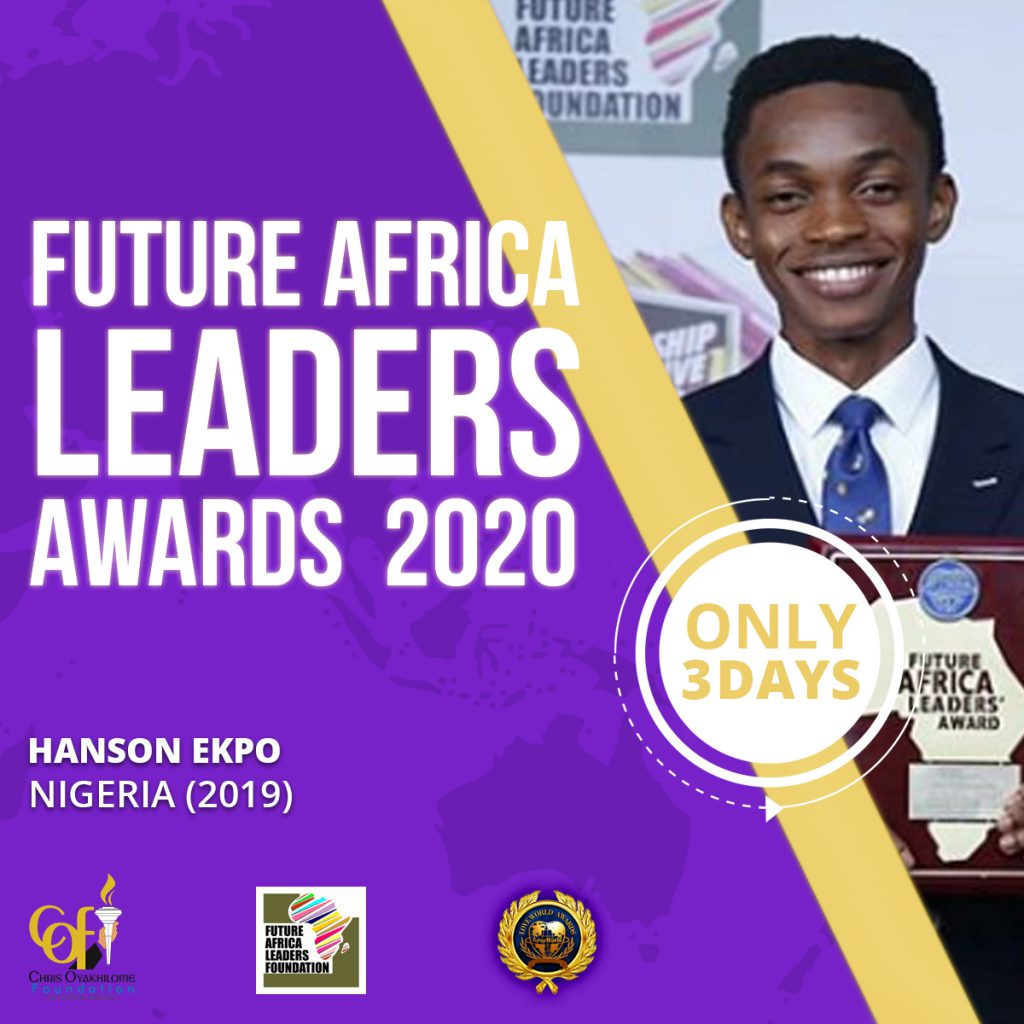 Looking back at last year's nominees we highlight a 21-year-old leader from Nigeria, Hanson Ekpo, founder of Experteens, which is a distinction-driven organization raising a generation of successful entrepreneurial leaders. Through skills acquisition programs and leadership seminars in several African countries, he has transformed the lives of over 400 000 youth, through exceptional mentoring and networking programs. Hanson contributed significantly to enhancing youth economic awareness and financial literacy through the introduction of a collaborative pick-and-save system for school students and their parents. He also organized exhibitions for young people to market their products through his 15 000-customer base online platform, Connect Market. Through monthly radio and TV programs called "Your Potentials are Assets", over 15 million youths were reached and taught how to develop their potentials into assets for the society and community.
This entrepreneurial young man co-hosted the 2019 Future of Jobs Conference, where thousands of youngsters were taught by top international businesspeople how to become marketable for the job world. He started an initiative to respond to the ever-growing plastic pollution by recycling used plastic and tires into chairs and mats, sold to generate funds used towards student tuition fees, uniforms, and academic materials. Truly an exceptional candidate worthy of his place in last year's nominees. As program Director of Street Priests, he has transformed the lives of over 500 000 street children and was instrumental in sending many thousands back to school. He has been recognized globally and locally for his leadership and mentorship qualities. Hanson has been an asset to his community and society on the whole.