Join the InnerCity Mission to spread Love throughout February by participating in the Acts of Love campaign, reaching children and families in dire need. These acts of love have the capacity to improve the lives of others forever and make a difference.
Over the years the campaigns, programs, and initiatives of the Chris Oyakhilome Foundation International (COFI) and the InnerCity Mission have impacted the lives of millions of people in need,  mostly children, around the world in hard-to-reach communities. The InnerCity Mission for Children is part of the humanitarian network that falls under the auspices of COFI and made possible by the founder himself, Chris Oyakhilome.
Act 1: Gift School Supplies to a Child in Need
Many of the poorest children are barely able to attend school, and those that do cannot manage to buy school supplies. Education is a basic right that helps to build a sustainable future generation. Please donate these following items to allow children to continue to learn. They need stationery, writing books, erasers, sharpeners, colors, geometry sets, and calculators.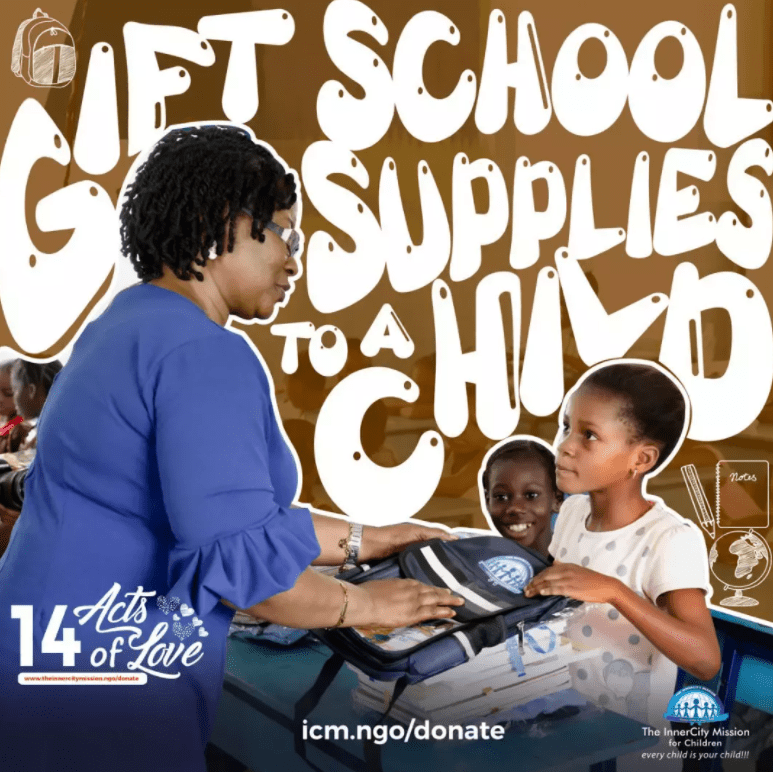 Act 2: Set Up Book Clubs in Community Schools
Another beneficial 'Act of Love' is setting up book clubs in community schools. These enable students to engage and promote a very necessary reading culture in the schools; most of which lack decent libraries and book clubs. This season of love presents a unique opportunity to start one.
Because of the enormous and beneficial effects of reading on learning and child development, this creates the perfect opportunity to allow the children to acquire skills, and knowledge. One of the biggest contributors to ending poverty is ensuring children have an education.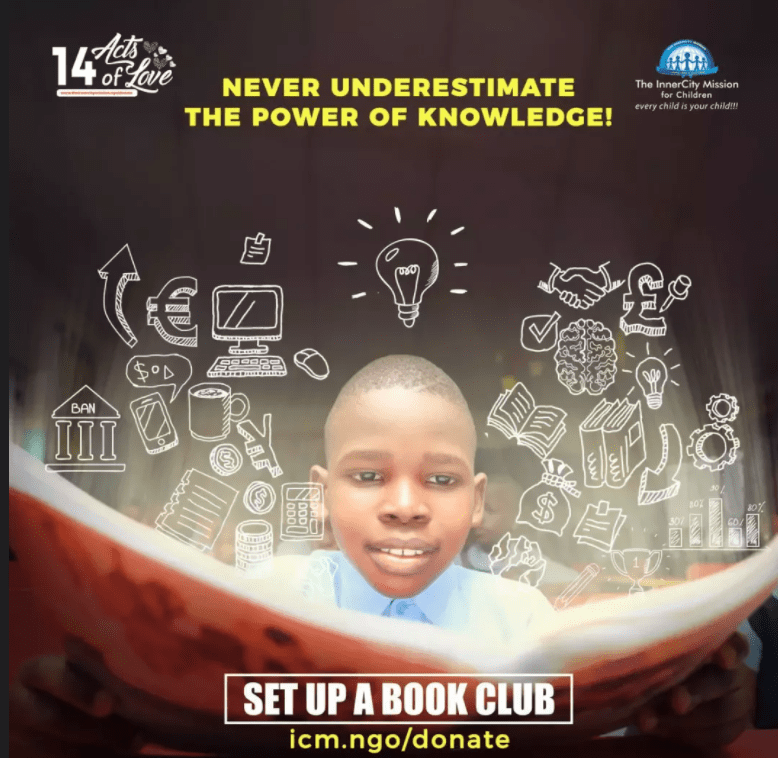 Act 3: Carry Out a Library Project
Reading is such a vital part of developing a child's mind and intellect. Research has shown that books help with development of language skills and vocabulary. Unfortunately, most community schools lack libraries, so as a volunteer you can do an 'Act of Love' by organizing a book drive where people can donate new or used books to support your project in a community school in your area.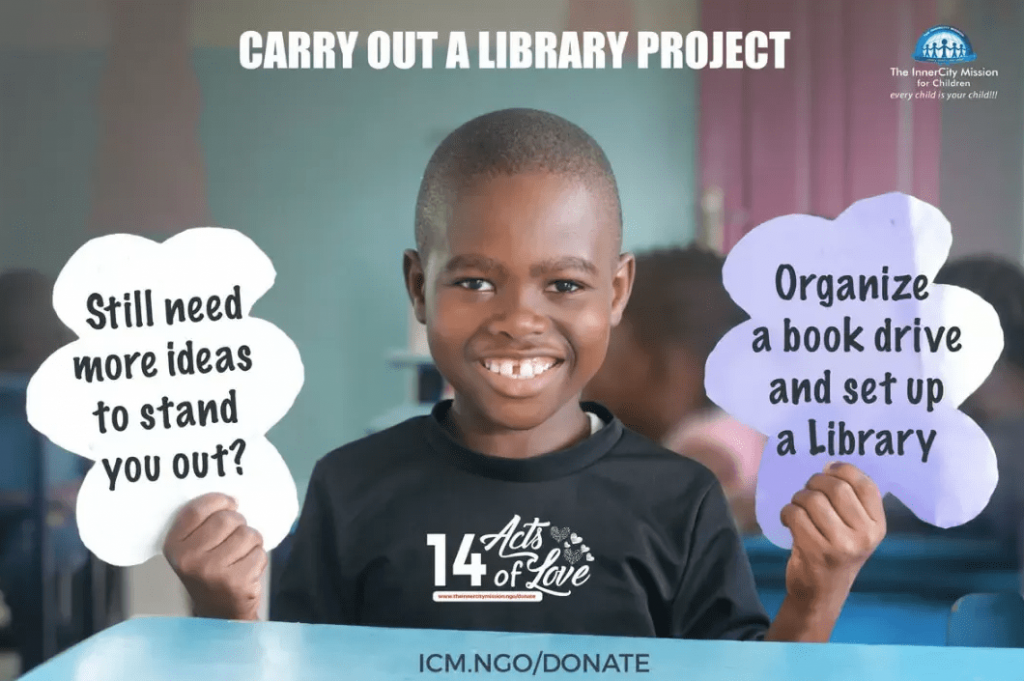 Act 4: Volunteer to Teach a Skill
The financial challenges facing indigent families force their children to fend for themselves. Domestic chores, especially for girls, and the work required to run households or farms, can also prevent children from getting sufficient learning time. If you are able to teach a skill to improve and build a child's ability to support their families, shows a true gesture of love. It allows children to be independent and self-sufficient.
You can teach any skill of your choice to better equip a child on behalf of the InnerCity Mission. Skills like first aid, crafts, baking or dress making are all valuable life skills which can be monetized.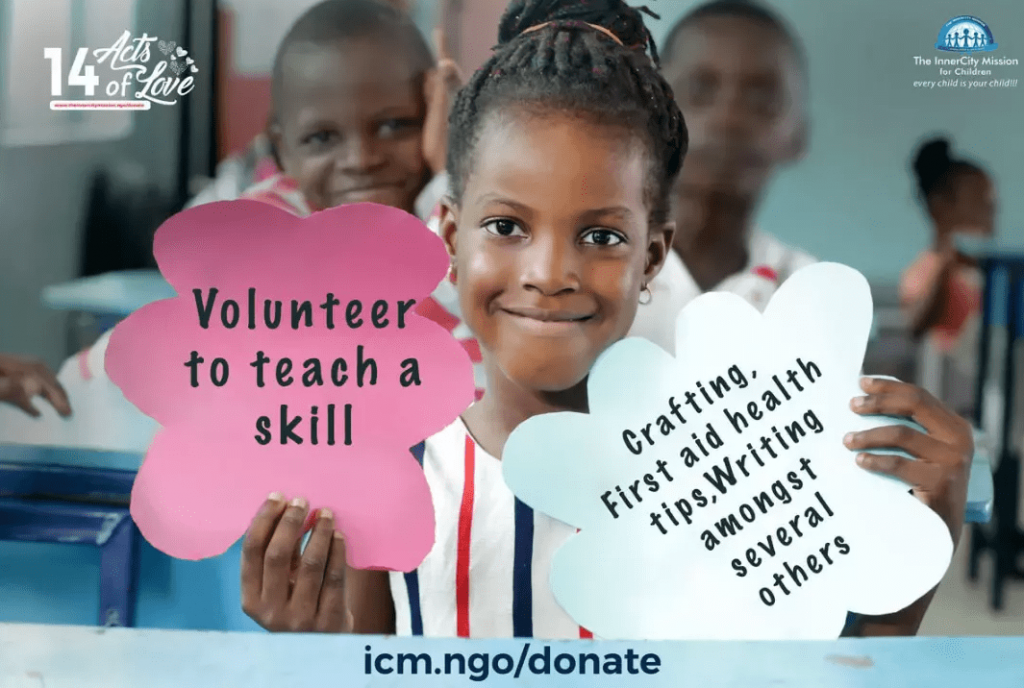 ACT 5 – Set Up a Fundraising Campaign to Send Children Back to School
You can use your special occasion like birthdays or anniversaries in February as opportunities to crowd fund and gift your day to sponsoring children to go back to school. You can make the educational dreams of a needy and impoverished child come true this new academic termby setting up a campaign at https://fundraise.theinnercitymission.ngo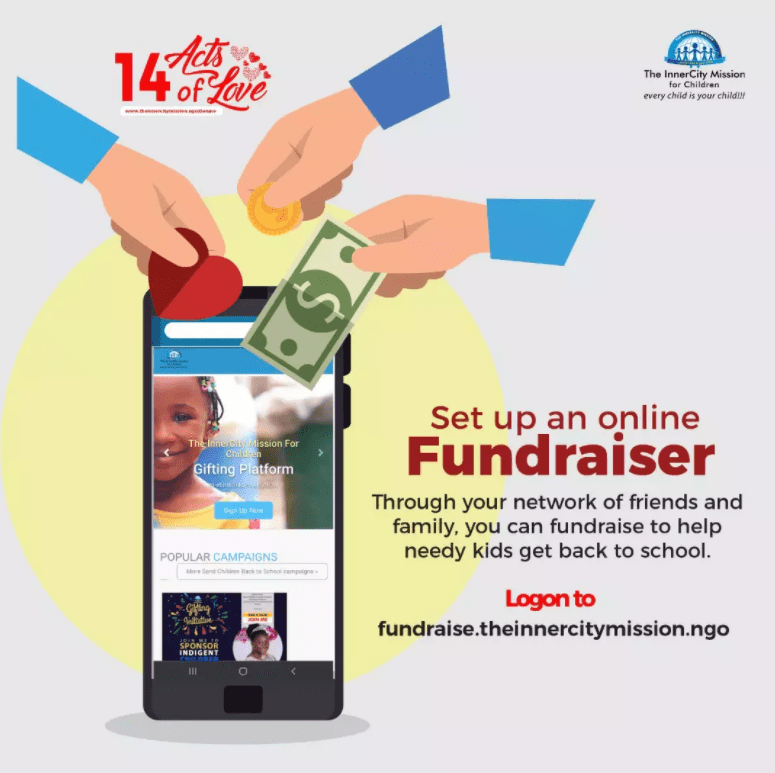 Act 6: Mentor a Child
Another volunteer opportunity at the InnerCity Mission is to mentor a child. You can help a child with their confidence and self esteem, as studies have proven that children thrive beyond their disadvantage under mentorship. Their behaviour and relationship skills imoprove significantly.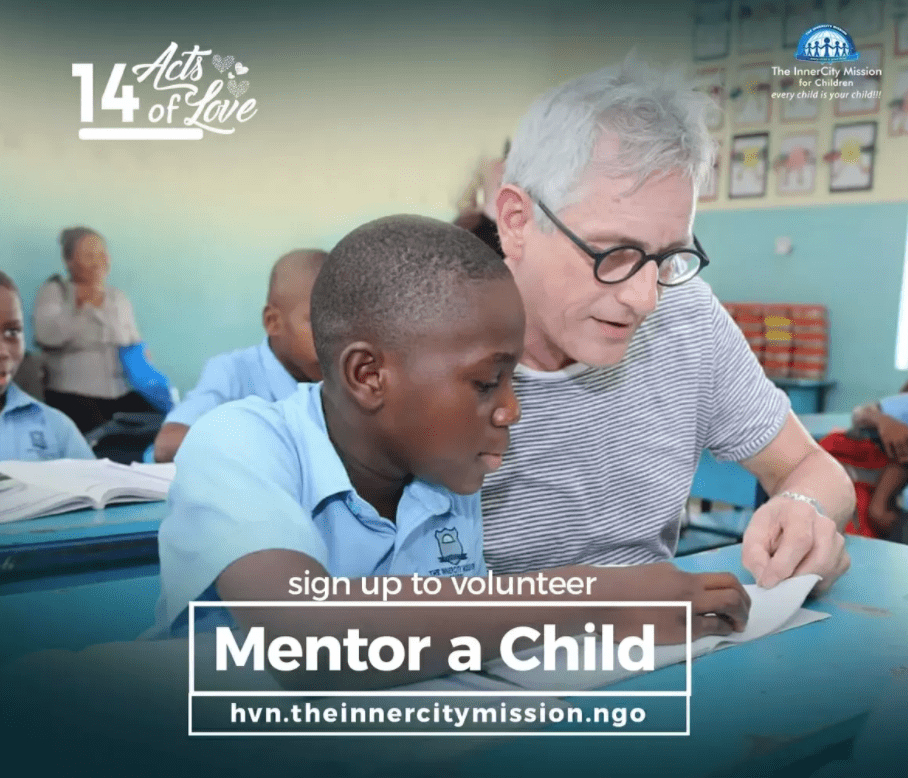 Register as a volunteer today and make a difference in the lives of so many children at hvn.theinnercitymission.ngo