The 24th of January is the United Nations International Day of Education. The United Nations Educational, Scientific and Cultural Organization (UNESCO) is the agency of the United Nations contributing to building peace through international cooperation in education, the sciences, and culture. It is written on their website: "Education is a human right, a public good, and a public responsibility."
"Without inclusive and equitable quality education and lifelong opportunities for all, countries will not succeed in achieving gender equality and breaking the cycle of poverty that is leaving millions of children, youth and adults behind."
The theme of the International Day of Education for 2023 is "to invest in people, prioritize education".
Chris Oyakhilome, the founder of the Chris Oyakhilome Foundation International (COFI), put a great deal of emphasis on education when he said:
"For indigent children, Education is the number one opportunity for a way out of poverty."
At COFI we believe that education is a basic human right, a public good, and a public responsibility. Working with partners, sponsors, and volunteers, many initiatives and campaigns through the InnerCity Mission (ICM), under the COFI umbrella, are directed at improving education and educational facilities and making education accessible to all.
Nelson Mandela rightly called education "the most powerful weapon which you can use to change the world."
Without inclusive and equitable quality education and lifelong opportunities for all, countries will not succeed in achieving gender equality and breaking the cycle of poverty that is leaving millions of children, youth, and adults behind.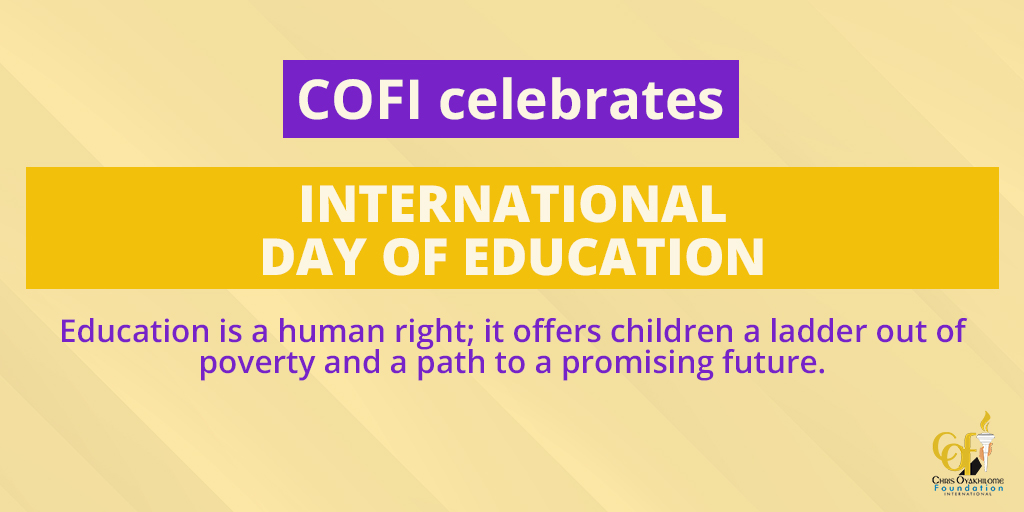 Education at the heart of SDG
Education is also at the heart of the Sustainable Development Goals, as set by the United Nations. It can be the catalyst needed to pull families and communities out of the cycle of poverty. Knowledge gives children the power to dream of a better future and the confidence needed to pursue a full education, which in turn will help generations to come.
With fewer resources and less of a focus on education at home, children growing up in poverty are behind from the very beginning. Poverty and education are inextricably linked, because people living in poverty may stop going to school so they can work, which leaves them without literacy and numeracy skills they need to further their careers.
Studies have repeatedly shown a link between poverty and education. Family income is one of the strongest predictors available for measuring success, both in the classroom and later in life. Those living below the poverty line will also be more likely to keep their children out of school, which means that their children will also have a greater chance of living in poverty. Education can also break and reverse cycles of intergenerational poverty.
The effects of poverty on children are wide-reaching and can lead to lifelong struggles, especially when young people don't receive a full education.
Today, education is at the heart of the Sustainable Development Goals, it is essential for the success of all 17 of its Sustainable goals.
We need education to reduce inequalities and improve health. We need education to achieve gender equality and eliminate child marriage. We need education to protect our planet's resources. And we need education to fight hate speech, xenophobia, and intolerance, and to nurture global citizenship.
The United Nations cannot eradicate poverty immediately, but it can create opportunities to minimize its effects and education is one of the most powerful tools to do so.
As we celebrate #InternationalDayofEducation on the 24th of January, join #COFI to ensure continuous education and sponsor a child today at  https://icm.ngo/donate