The months of June and July remain a busy and successful time for the Trauma Care International Foundation as this last week kicked off the TCIF Annual Global Voluntary Blood Donation Campaign. Christ Embassy has graciously hosted and supported this campaign at several of their campuses all around the world.
Every year, June 14th marks World Blood Donor Day and is recognized internationally by all, both religious and non-religious communities. Since the first year of the established "day" in 2004, the World Health Organization (WHO) has dedicated time, resources, money and so much more in hopes to raise awareness of the importance of donating safe blood.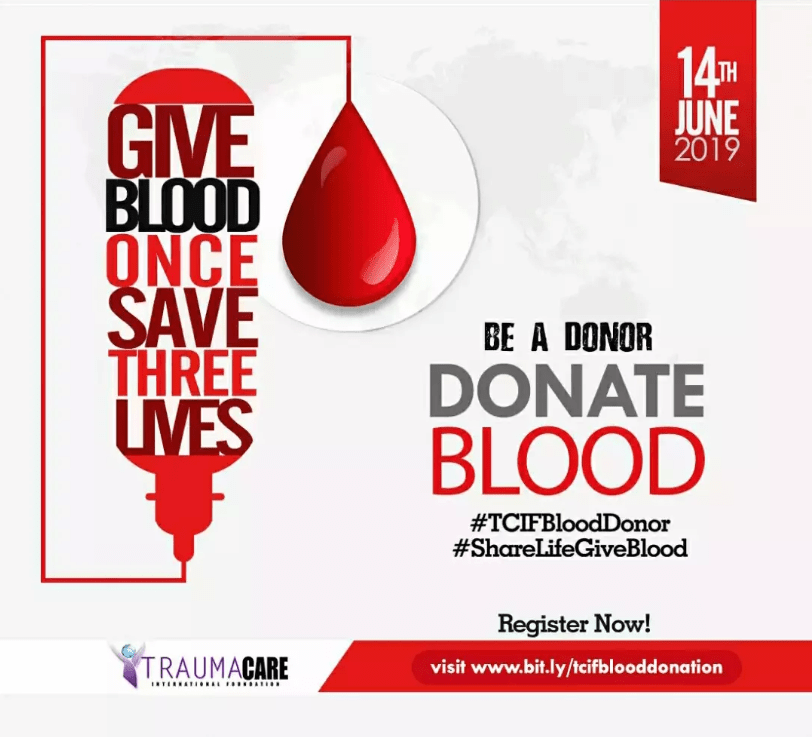 Beginning June 14th, the official World Blood Donor Day, Christ Embassy has called forth all partners, pastors, and volunteers with Trauma Care International to take part in a month and a half long campaign. This campaign will run until the 30th of July and serves as a powerful initiative to raise awareness of the need for safe blood and safe blood products, while also providing an opportunity to donate and aid in this life-saving act.
Christ Embassy and the LoveWorld Nation have done incredible work towards raising awareness and mobilizing people to voluntarily give blood, all thanks to the great partnership with the Chris Oyakhilome Foundation International. As Trauma Care International assembles teams of support across all Christ Embassy Zones and campuses, the Chris Oyakhilome Foundation International provides the utmost services to ensure an impactful and globally effective blood drive.
Over the duration of this week, LoveWorld TV has reported live on this internationally recognized cause. In hopes to create greater awareness and understanding of the need for safe blood and blood products, representatives of COFI's Volunteer Medical Corps UK have taken this opportunity to share the best practices for safe blood donation and use, as well as encouraging more participation.
If asked what the most significant way to contribute to society is, bio-scientists and health practitioners would say that blood donation not only helps one person but several people. Unfortunately, we have become so common with the phenomenon that our bodies are rapidly and constantly reproducing blood that we perceive blood donation to be more taxing on our own bodies than it is.
While blood donation has become increasingly more popular and the number of people signing up to be blood donors continues to multiply, there are still many complications that transpire in this system. In studying the statistics of human's willingness to give from their own biology, there is a common trend taking place amongst the lower class worldwide. The giving of biological material such as blood, plasma, reproductive properties and bone marrow in exchange for money has surely attracted an audience other than those who wish to save lives for the sake of saving them, free of charge.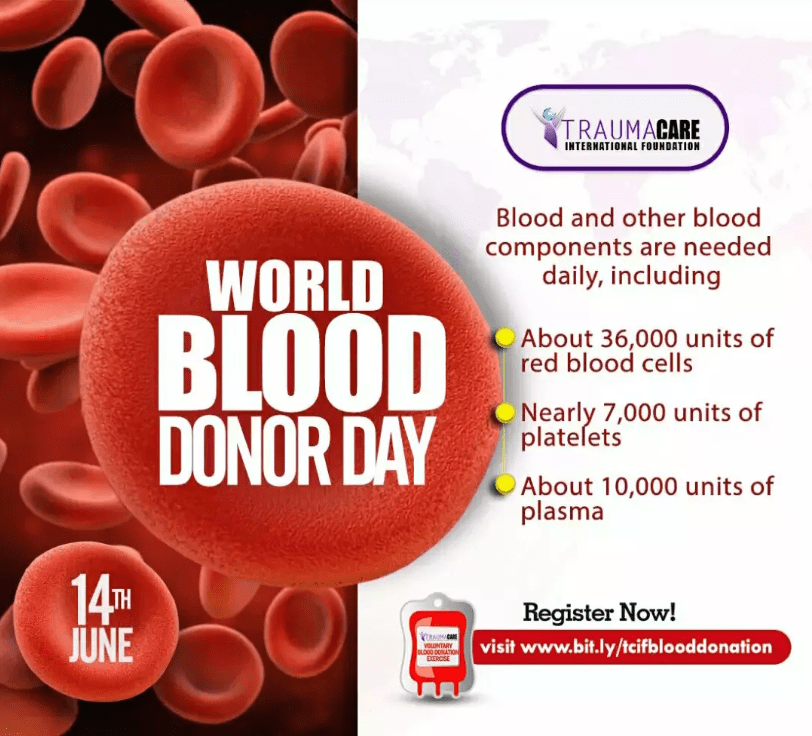 For this purpose, the Trauma Care International Foundation has found long-term value in focusing their efforts towards a greater awareness on a voluntary basis. There is already a risk in the safeness of these processes and transfusions and COFI wants to eliminate these risks by partnering with Trauma Care International. By advocating for voluntary blood donation, TCIF, Christ Embassy, and the Chris Oyakhilome Foundation look forward to the next month and a half as these very donations are being made to rescue lives around the world.
We are immensely overwhelmed by the support and coordination of the most highly esteemed pastors of Christ Embassy worldwide. See below and rejoice for only some of the many centers they have currently set up for the Global Voluntary Blood Donation Campaign and don't miss your chance to save lives by volunteering to donate here!
Pastor Marcel Obode; Christ Embassy Kaduna – 5 Centres.
Pastor Femi Otenigbagbe; Christ Embassy Lagos Zone 3 – 2 Centres.
Evang. (Dr) Eddy Owase; Christ Embassy Warri Ministry Centre – 10 Centres.
Pastor Archie Aseme; Christ Embassy Onitsha – 1 Centre.
Osagie Osaghae; Christ Embassy Kano – 1 Centre.
Joe Ezire; Christ Embassy Akure – 1 Centre.
Pastor Emma Akhuemokhan; Christ Embassy Benin Virtual Zone 2 – 1 Centre.
Pastor Lekan Balogun; Christ Embassy Lagos Zone 1 – 2 Centres.
Pastor Mary Owase; Christ Embassy Mid-West Zone – 5 Centres.
Pastor Emeka Eze; Christ Embassy Lagos Zone 2 – 5 Centres.
Pastor Obi Umeasiegbu; Christ Embassy Nigeria South-South Zone 1 – 10 Centres.
Pastor Gabriel Omorogieva; Christ Embassy Ibadan South – 1 Centre