The Chris Oyakhilome Foundation International (COFI) is a faith-based non-governmental, non-political, international humanitarian and development organization under the direction of its visionary and legendary founder, Chris Oyakhilome. Through the promotion and sponsorship of charitable initiatives, COFI was established to help individuals, communities and nations lead purposeful and productive lives in the service of the Lord. The initiatives are ongoing through sponsors and humanitarian agencies which offer structured support for impoverished children around the world, ensuring them access to education, medical care, food, and nourishment, to enable them to lead productive, useful lives as part of their communities.
COFI believes in supporting strong foundations of community by promoting good governance, accountable leadership, and sustainable development in Africa and in other vulnerable parts of the world. In honor of its founder, Chris Oyakhilome on his 57th birthday, many of these partners undertook various initiatives and community service to celebrate this great humanitarian and philanthropist. Millions of messages poured in from all over the world on Twitter, Facebook, and KingsChat, a true testimony to the man who has impacted so many people on a global scale.
InnerCity Mission
"Celebrating God's special gift to us, we are celebrating a loving father, we are celebrating a luminary, we are celebrating a teacher like no other. Thank you dear Pastor for raising giants. Thank you for being the "World's Best Dad". Your love continues to ignite and sustain hope in the lives of the indigent we reach. Happy birthday Rev. Dr. Chris Oyakhilome DSc. DD. We love you dearly!" – InnerCity Mission
"Still celebrating our luminary founder! The Chris Oyakhilome Foundation International and its Member Agencies heartily celebrate the Luminary Founder of the World's Largest faith-based, International Humanitarian & Development Organisation (COFI), Rev. Chris Oyakhilome Dsc, DD. Thank you Pastor for the opportunity to give hope to millions around the world, impacting lives with the Gospel of our Lord Jesus Christ. We Love You, Sir!"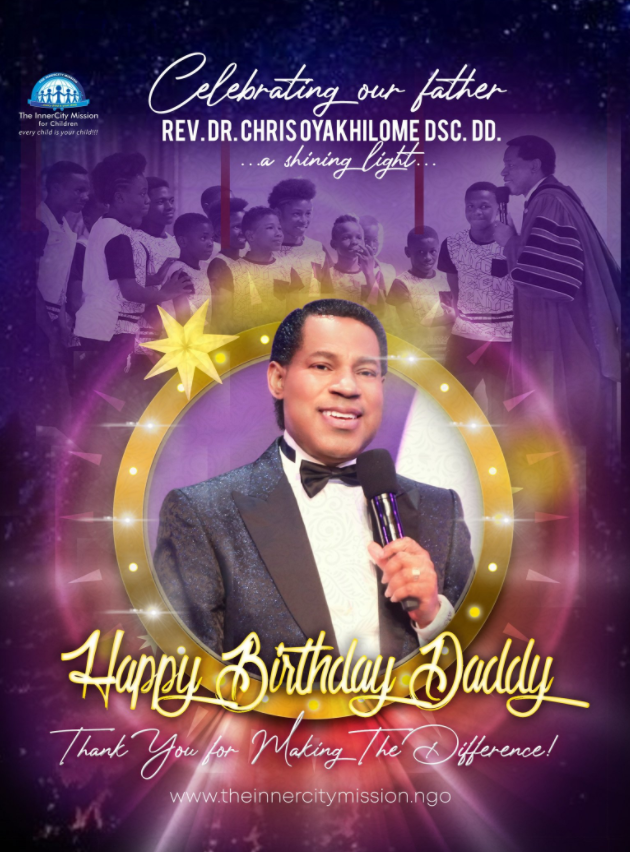 Volunteer Medical Corps
The Volunteer Medical Corps (VMC) is a global Christian network of medics, paramedics, health care professionals, humanitarian volunteers, and students who are committed to providing medical care, relief assistance, and sustainable health care solutions in regions of crisis and to communities in dire need.
"Happy Birthday, Pastor Sir, Today we join all the saints and all the hosts of the Kingdom of God to celebrate our Man of God Revd. Chris Oyakhilome; so full of God's liquid love, of faith, and of passion for the Lord Jesus Christ and the Gospel. Thank you Sir for leading us in a triumphal procession through the years as we execute medical and humanitarian projects championing the cause of the gospel on a global scale. We love and celebrate you greatly – Loveworld Medical Missions & Services."

Trauma Care International Foundation
The Trauma Care International Foundation (TCIF) is an NGO in Special Consultative Status with the United Nations Economic and Social Council (UNECOSOC) focused on improving trauma care and emergency response services in her member nations through safety and health education training sessions, advocacy campaigns, and community-based programs in line with Sustainable Development Goals (SDG) 3, 4 and 17.
"The management, staff, and volunteers of the Trauma Care International Foundation felicitate with our President; Revd Dr. Chris Oyakhilome on this auspicious occasion of his birthday. Thank you Sir for showing us how to make lives count through our exploits in preserving lives through improved trauma management and emergency response. Thank you for your visionary leadership and guidance. We love you, Sir. Trauma Care International Foundation."