The Chris Oyakhilome Foundation International (COFI) is working tirelessly towards a world that is diverse, equitable, and inclusive. A world where difference is valued and celebrated. Imagine a gender-equal world, free of discrimination.
The many different NGOs that make up COFI not only work to counter the effects of poverty but to build a sustainable future, this includes achieving gender equality and empowering women.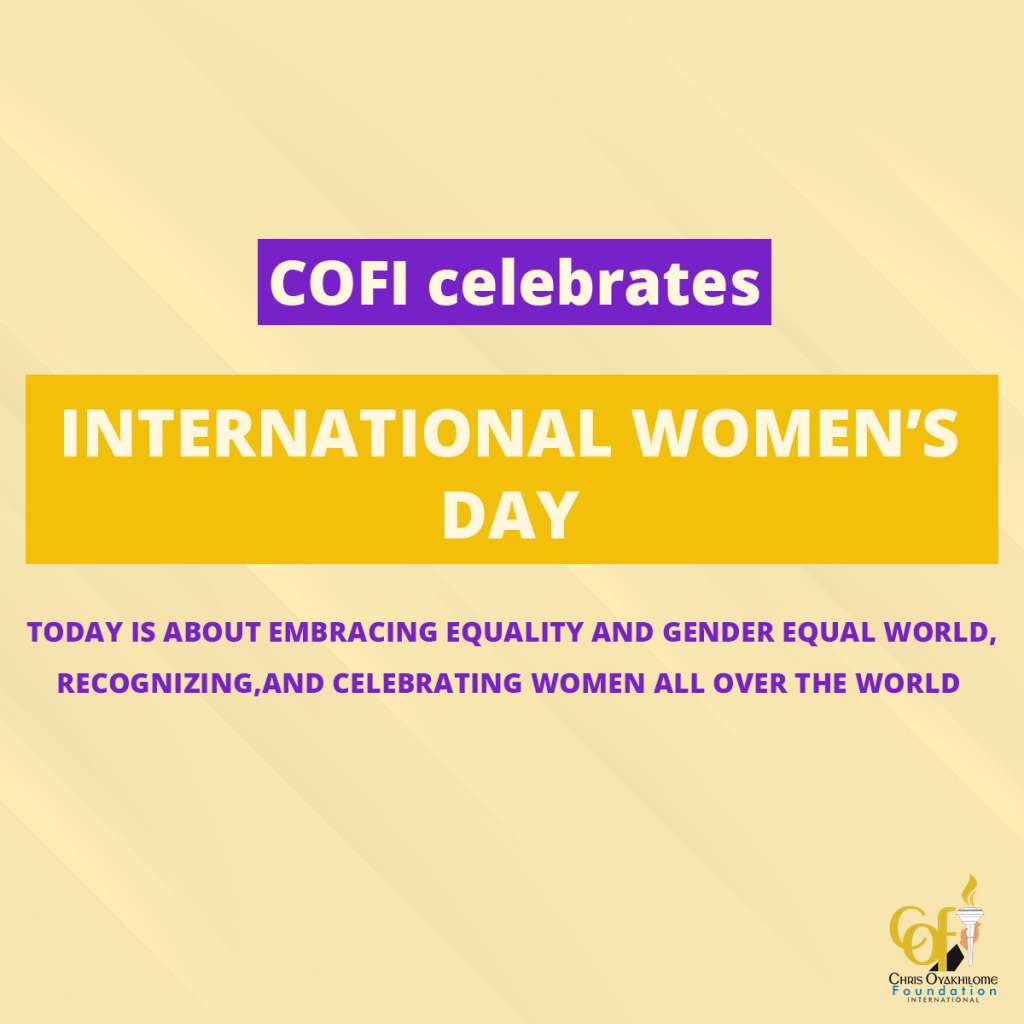 Embrace Equity
Together we can forge women's equality, and the theme for International Women's Day (IWD) 2023 is #EmbraceEquity.
The dictionary describes embrace (verb) as to willingly and enthusiastically accept, adopt, and espouse.
International Women's Day is celebrated worldwide on March 8. The achievements of women and how far they have come in the fight for their rights within the political, cultural, and social spheres are celebrated.
The day is also observed in support of taking action against gender inequality around the world. COFI is proud to be part of a global program where we can celebrate women's achievements while raising awareness about gender equality.
SDG # 5: Achieve Gender Equality
Achieving gender equality and women's empowerment is integral to each of the 17 Sustainable Development Goals set by the United Nations.
The 2030 Agenda for Sustainable Development and its 17 Sustainable Development Goals (SDGs) adopted by world leaders in 2015 embody a roadmap for progress that is sustainable and leaves no one behind.
Only by ensuring the rights of women and girls across all the goals will we get to justice and inclusion, economies that work for all, and sustaining our shared environment now and for future generations.
Gender equality has always been a core issue for the United Nations. Gender equality and the empowerment of women and girls will make a crucial contribution not only to the economic development of the world but to progress across all the goals and targets of the 2030 Agenda for Sustainable Development, as well.
Women and girls represent half of the world's population and, therefore, also half of its potential. Gender equality, besides being a fundamental human right, is essential to achieve peaceful societies, with full human potential and sustainable development.
Through various programs under the auspices of the Chris Oyakhilome Foundation International (COFI), Chris Oyakhilome has been instrumental in empowering young female leaders to become agents of change in finding solutions to challenges facing their various societies.
Future Africa Leaders Foundation (FALF) is a partner of COFI and the acts of service of the various leaders have a powerful impact on their communities, nations, and society. Often the Future African Leaders Awards (FALA) is attended by powerful female guests of honor.
The Former President of Liberia, Ellen Johnson Sirleaf, has presented many awards and been a keynote speaker at the events. She is an inspiration to many young leaders being the first elected female head of state in Africa. She has had a long political career and has achieved great success including her fight for equal rights for all. Ellen Johnson Sirleaf is certainly a formidable force who is taking action on embracing equality.