Last week we commemorated the International Day for the Eradication of Poverty, established by the United Nations with the theme this year being: "Putting Dignity in Practice for All".
The International Day for the Eradication of Poverty, observed every year on October 17th, is a significant date that calls on individuals, governments, organizations, and institutions around the world to come together and take action towards eliminating poverty in all its forms. The theme of this special day is centered on acknowledging the struggles of those living in poverty, giving them a platform to make their voices heard, and taking collaborative action to improve their lives and livelihoods.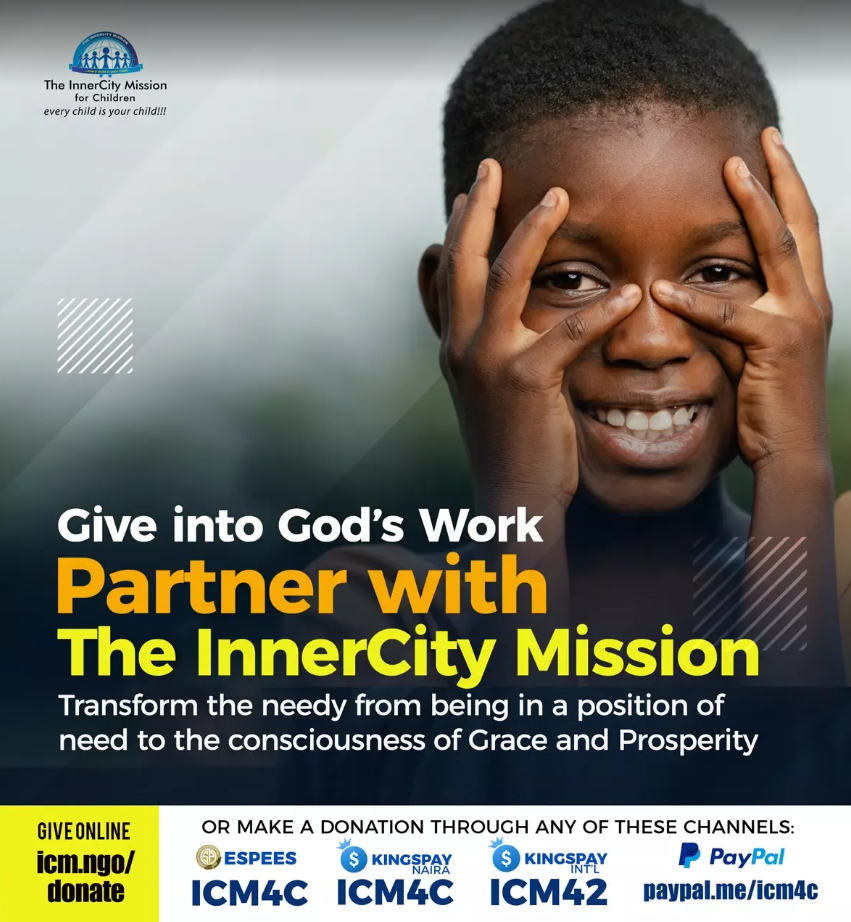 COFI at the forefront
One of the organizations that has been at the forefront of the fight against poverty is the Chris Oyakhilome Foundation International (COFI). COFI was established by Chris Oyakhilome with the vision to make a tangible difference in the lives of the world's most vulnerable and underserved communities. It is a global non-governmental organization that works tirelessly to address the root causes of poverty and empower individuals to lead sustainable and self-sufficient lives. COFI's approach to eradicating poverty is holistic, encompassing a range of initiatives and programs designed to uplift communities from poverty.
COFI's commitment to making a difference is evident in its wide range of impactful projects and initiatives through the InnerCity Mission (ICM) and various other partners. These include educational programs that provide schools, scholarships, and learning materials to children in need, healthcare initiatives that ensure access to clean water and sanitation, and economic empowerment projects that focus on vocational training and entrepreneurship development. By addressing these key areas, COFI is helping to break the cycle of poverty and improve the quality of life for countless individuals and communities around the world.
In addition to its various programs and initiatives, COFI also actively advocates for policy changes that can help alleviate poverty. This includes working with governments, other NGOs, and international bodies to implement policies that promote education, health, and economic development. Through these efforts, COFI aims to create a world where everyone has the opportunity to live a life free from poverty and reach their full potential.
The work of COFI is a testament to the power of compassion, commitment, and collaboration in the fight against poverty. The foundation's initiatives not only provide immediate relief to those in need but also pave the way for long-term change and sustainable development. As we observe the International Day for the Eradication of Poverty, let us recognize and applaud the efforts of Chris Oyakhilome and COFI together with other organizations that are working tirelessly to create a brighter, more equitable future for all. By joining hands and working together, we can make poverty a thing of the past and ensure that everyone has the opportunity to thrive.
Education: A Cornerstone for Eradicating Poverty
Education is one of the most powerful tools in breaking the cycle of poverty. COFI firmly believes in the power of education to transform lives and has taken significant steps to improve access to quality education for children in impoverished communities. Through its various programs and initiatives, COFI has built and rehabilitated schools, provided educational materials, and awarded scholarships to underprivileged children, ensuring they have the opportunity to learn and thrive.
Health and Wellbeing: A Fundamental Right for All
A healthy population is a productive population. COFI is committed to improving the health and well-being of individuals living in poverty by providing access to clean water, sanitation facilities, and healthcare services. The foundation has implemented numerous projects aimed at reducing the spread of diseases, improving maternal and child health, and addressing malnutrition, ultimately contributing to healthier, more resilient communities.
Empowerment Through Skill Acquisition and Entrepreneurship
In addition to education and health, COFI recognizes the importance of economic empowerment in eradicating poverty. The foundation has developed programs that focus on skill acquisition, vocational training, and entrepreneurship development. By providing individuals with the necessary tools, knowledge, and resources, COFI empowers them to start their own businesses, generate income, and lift themselves and their families out of poverty.
The fight against poverty is real
The fight against poverty is a collective responsibility that requires the active participation of all stakeholders. On this International Day for the Eradication of Poverty, let us take inspiration from the remarkable work of the Chris Oyakhilome Foundation International and join hands in our quest to create a world free of poverty. Together, we can empower lives, build stronger communities, and ensure a brighter future for all.
Doing good doesn't cost so much, you just have to be willing to help. As we mark the International Day for the Eradication of Poverty, we reaffirm our unwavering commitment to break the cycle of poverty and empower indigent children to fulfill their God-given potential. Sponsor A Child today!