Dreams can come true because of you. At the InnerCity Mission, helping indigent children to visualize and actualize their dreams remains a core priority. We are launching the maiden edition of the 'Colouring Dreams Conference', scheduled to take place on the 26th & 27th of August. This 2-day Global online event is the first of its kind and will feature global panel sessions, impact stories, virtual tours, prayer sessions and so much more.
This event is specially designed to engage and inspire the InnerCity Mission for Children's global network of partners and stakeholders. The purpose is also to enlist new partners as our aim is to deliver on our mandate to reach and engage the needy with life-changing support.
The Chris Oyakhilome Foundation International (COFI), being a faith-based non-governmental, non-political organization under the direction of its visionary and legendary founder, Chris Oyakhilome, has core Christian values.
Through the promotion and sponsorship of charitable initiatives, COFI was established to help individuals, communities, and nations lead purposeful and productive lives in the service of the Lord.
It is written in the Bible in Mark 10:27: "Jesus looked at them and said, 'With man, this is impossible, but not with God; all things are possible with God.'"
As we count up to the Colouring Dreams Conference 2022, we are excited to inspire faith in everyone to reach the indigent numbered in the 7 billion mandate.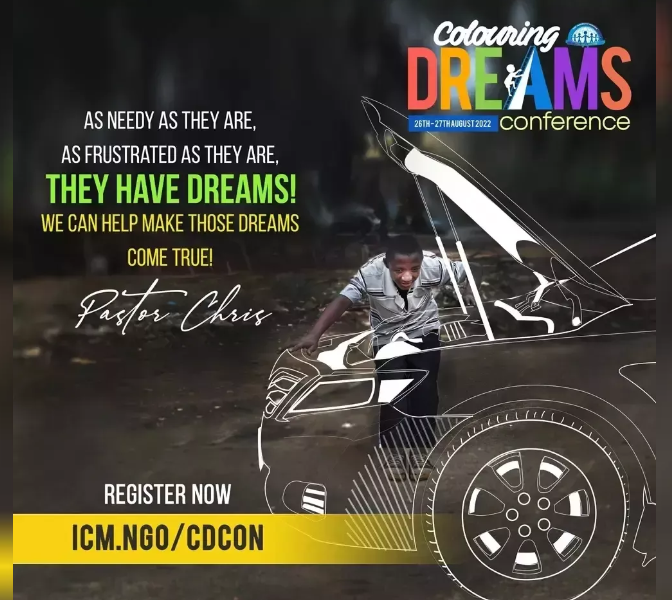 International Youth Day and World Humanitarian Day Highlight our Plight
Last week we celebrated International Youth Day. This is a unique day to celebrate the young people around the world who volunteer with us to bring about the change they want to see in their communities and nations at large. We encourage young people to take action on the issues of poverty by volunteering with us.
As it is written in Ephesians 4:16: "from whom all the body fitly framed and knit together through that which every joint supplieth, according to the working in due measure of each several part, maketh the increase of the body…… ", we thank our network of partners and volunteers around the world for their unwavering support and for standing with us in the fight against poverty. We appreciate all that you supply to reach the poor and needy communities numbered in the 7 billion mandate.
Having also just commemorated World Humanitarian Day, today we face record levels of humanitarian need. Never have so many crises converged, including conflicts, the climate emergency, a global pandemic, hunger, and displacement. Our world is under enormous stress, and the most vulnerable people can no longer cope.
However, every hour of every day, humanitarian work continues around the world, and it saves lives. This year's campaign highlights the importance of humanitarian action by building on the saying 'It takes a village to raise a child,' because, similarly, it takes a village to support a person in a humanitarian crisis.
"Far from the spotlight and out of the headlines, humanitarians work around the clock to make our world a better place. Against incredible odds. Often at great personal risk, they are suffering in some of the most dangerous circumstances imaginable," said António Guterres, Secretary-General of the United Nations
Let's join together to make dreams become a reality, and be the answer to the cries of so many people, by joining the Colouring Dreams Conference.
Every Child is Your Child – Chris Oyakhilome
Endorsing the maiden conference, the Esteemed Pastor TT Temisan, member of the LoveWorld Central Executive Council, had this to say about the #ColouringDreamsConference.
"This conference is designed for global stakeholders and partners of the ICM, and anyone who is interested in providing and enabling a future for indigent children and children whose future is bleak, no food, no education, no accommodation, because of circumstances of their birth, circumstances befalling them because of war, because of terrorism, because of natural disaster. These children can be anywhere in the world. They can be in your country, in your city, they can be in a country that you are not aware of but somewhere in the world. This conference is designed for us to know about such children, know and see what has been done for them by the partners of the ICM for children and how you can be a part of this mission."
We urge you to register and make plans to participate, and make a difference in the lives and dreams of so many children, don't miss it!