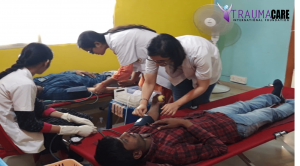 The Voluntary Blood Donation Drive kicked off on June 14th, marking the annual World Blood Donor Day. Trauma Care International, proud partner of the Chris Oyakhilome Foundation International has been teaming up with the Volunteer Medical Corps to provide the opportunity of saving lives for all.
The drive took place from June 14th and ended July 30th. This global initiative to not only gather donatable blood but to educate and raise awareness of voluntary blood donation has been an incredible success. Christ Embassy (CE) locations around the world have done a brilliant job to host and provide the way for this ongoing event to change lives forever.
In many areas where the drive has been taking place, conditions are far below where they need to be in order to foster sustainable living. It is through this voluntary blood drive that certain regions are waking up to the reality that they can be the ones to make the change and provide a new future for their own communities.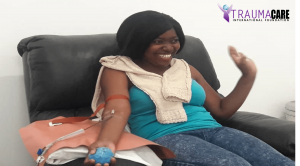 Just one example of how this drive has impacted a community greatly is in the Democratic Republic of Congo. The whole world is talking about issues taking place in the DRC right now, with specific concerns of health and Ebola outbreaks. Despite this, the voluntary blood drive is raising awareness to keep pushing and giving towards a future that ensures a priority of health and service. To provide an opportunity to give towards the health of others in a land struck with the disease is to provide a new hope in ourselves that we can be a part of the solution and not only a victim of the problem.
A message to LoveWorld Medical Missions and Services:
"This is to specially thank the partners of the Loveworld Medical Missions & Services in LW HQ Staff Community for organising a successful voluntary blood donation drive in partnership with the Trauma Care International Foundation's Global Voluntary Blood Donation Campaign. Thank you for committing to ensuring adequate supply of blood for victims of road traffic accidents and other traumatic injuries"
Listed below are some of the locations that have magnificently contributed to the Volunteer Blood Drive, changing lives and communities into agents of public health:
IKORODU CHURCH, LAGOS NIGERIA
CE MAINLAND CHURCH, MARYLAND, LAGOS, NIGERIA.
UNITED KINGDOM, UKZ1, UK Region 2
POINT NOIRE, CONGO BRAZZAVILLE
YOLA, NORTHEASTERN, NIGERIA
CEC YABA, LAGOS, NIGERIA.
CEC YABA, LAGOS, NIGERIA.
CE Lagos Zone 3 Yaba Centre
CE Lagos Zone 3 Aguda CentrE
CE Francistown Botswana
CE Mmandinare Botswana
CE Gambia
CE Sierra Leone
CE Oshogbo
CE Lafia Nassarawa
CE New York Megalopolis
CE Alakija2 Lagos Zone 2
CE Isolo Lagos Zone 2
CE Jalingo