As the COVID-19 pandemic spreads with alarming speed, infecting millions of people and bringing the economic activity to a near-standstill, countries continue to impose tight restrictions on movement to halt the spread of the virus. The economic damage is already evident and represents the largest economic shock the world has experienced in decades. This crisis highlights the need for urgent action to counteract the health and economic consequences of the pandemic and to protect the vulnerable populations.
Global Emergency Relief Aid
Chris Oyakhilome, through the Chris Oyakhilome Foundation International (COFI) and its partner organizations, launched a Global Emergency Relief Aid for Pastors and Ministers in Dire Need, a program that has impacted the lives of thousands of faith leaders around the world. The program which had already provided aid to over 6,000 pastors and ministers with food and aid relief across 16 different countries, including the United Kingdom, Uganda and Nigeria, has now reached over 11,000 desperate faith leaders in now over 34 countries. This relief aid is expanding rapidly across 164 locations around the world. These generous efforts have greatly alleviated the plight of religious leaders adversely affected by the COVID-19 pandemic.
As far back as May, Chris Oyakhilome explained that many of the ministers who are in desperate circumstances, are praying and expecting a miracle and that God expects us to be the answer to their prayers. He beckoned on other ministries to participate actively in the exercise, and clarified that the gesture was not limited to members of LoveWorld Inc., encouraging everyone to heed the call and contribute meaningfully to the project as faithful partners in reaching out to the needy. For this reason the Global Emergency Relief Aid to Pastors in Dire Need has been extended to phase 2. At the recently concluded 'YourLoveWorld' season 2, founder of COFI, Chris Oyakhilome expressed immense  gratitude for the phenomenal impact of the Global Emergency Relief Aid for Pastors in Dire Need- Phase 1. Further call for humanitarian action was made as he said "Let's do it one more time, let's do it again. I think we should because- why what we did is a seed to begin, I think if we do one more time it will help many more of them come out of  the situation in which they found themselves; and remember no one else is going to do it, its God's people. God relies on His own people to do His works, so He is relying on us to care".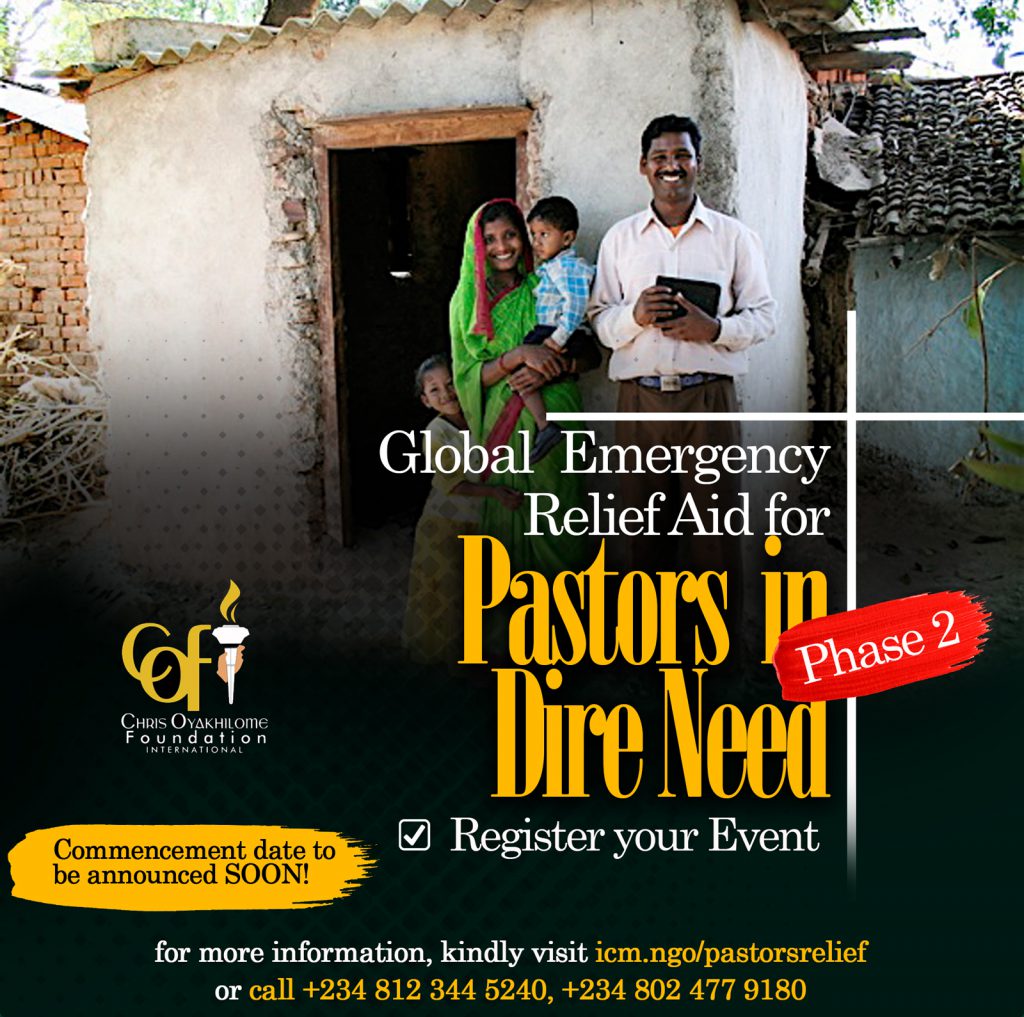 The Inner City Mission (ICM), also under the auspices of COFI, embarked on another emergency food relief intervention earlier this year, aimed at providing food and relief to needy and vulnerable children who have been affected by the recent preventative measures of lock down of the nation. The collection of the food has already been distributed to thousands of affected families. This ongoing effort, with Emergency Food Relief interventions, in collaboration with COFI's partners has reached over 300,000 families and households across Nigeria and many more in several other countries around the world.
To sponsor this initiative, you can send an email to info@theinnercitymission.ngo for more detail. You can also be a part of the Emergency Relief today by visiting icm.ngo/pastorsrelief to nominate a Pastor or Minister who would receive an emergency relief pack.