Annette Ewusi is a young and determined visionary. She is a passionate youth activist whose NGO 'Change Initiative' brings together like-minded youths who want to effect change. They make sure viable solutions are found to localized problems. She has a passion to empower women to assert morality educating them on their worth and value to society.
Congratulations to 2019 FALA Nominee and LIA Influencer, Annette Ewusi from Cameroon for her selection for the African Women Development Fund Amplify her campaign 2020. This is as a result of her work with teenage girls in Cameroon. The African Women Development Fund USA promotes public visibility, understanding and support in the US for African Women. Annette Ewusi from Cameroon has been featured in the Amplify Her Campaign.  This is an acknowledgment of her work empowering women.
What has she done
'The Change Initiative' (TCI) is an initiative founded in November 2018 by Annette Namondo Ewusi. Its primary aim is to promote and impact the right leadership standards by bringing together young people with the mindset of positive change and nation-building. The goals of the organization are to make a difference to student leadership, empowering the girl child thereby contributing to the achievement of the sustainable development goals of the United Nations.
Community service
A nation can be great or well developed if the leaders are competent and recognize its people and their needs. TCI is one of those organizations that build up leaders with a difference. Their leaders who have a vision, they are leaders to put the needs of their people before their own.
Annette believes there is a place for everyone in the world. When asked what her place is, she said " I have found my uniqueness and that in simple words is setting  the right leadership standard in my generation"  To further explains this, the right standard of leadership in Africa begins by restructuring the mindset of the young generation- our prospective leaders of tomorrow, hence the need for leadership education in our schools."
She went on to say, "I see every class as a generation. If I can't reach the president and ministers of my nation I can talk to the future leaders and these people are in the classroom." She wishes to avoid replicating the mentality of our leaders of today so, she founded an organization to bring together young people with the mindset of positive change.
The four goals are
To make a difference in student leadership; She shared her mini-book on student leadership to countless school communities as a manual. Awards are given to students who have demonstrated excellent leadership characteristics along with books and cash prizes.
'Girl Child' empowerment which focuses on teaching teenage girls on feminine virtues, knowing their worth and values. The campaign known as 'The Virtuous Teenage Girls' is part of this cause.
To work with The United Nation's SDGs that addresses academic excellence and entrepreneurship by organizing programs that discussed purpose discovery and the advantageous use of social media to monetize skills.
.
Targeting community development and partnership with like-minded organizations.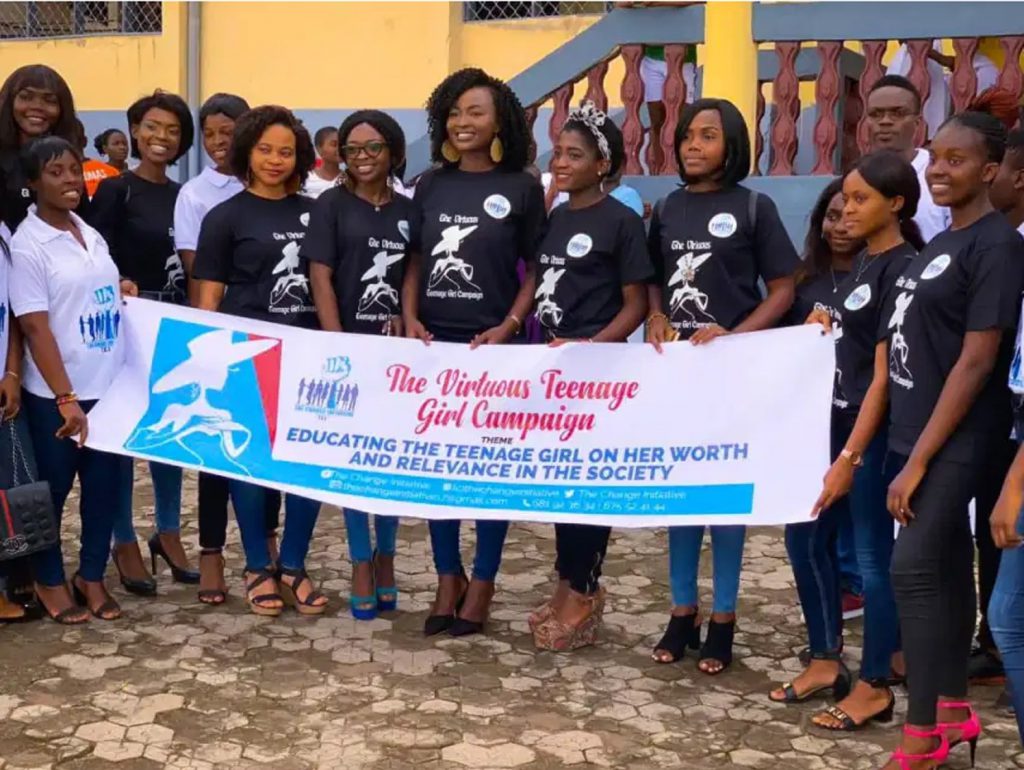 On March 24th, 2019 TCI launched a campaign known as the 'Virtuous Teenage Girl Campaign' in Buea Town, Cameroon. The campaign is aimed at empowering young females by educating them about their worth. When a woman knows she's capable of dealing with life challenges and can overcome she will be stronger. With educational programs from STEM to crafts girls who are part of the initiative will be upskilled for a productive life. They will also be mentored to see themselves positively and value all they have.