Thirty outstanding, and exceptional youth leaders from Africa, who have made significant contributions to the Economic Development, Socio-Political, Agricultural, and Educational sectors of their countries, through special programs and projects will be nominated for the 2021 Future Africa Leaders Awards. This will be the ninth edition of the nomination show. Ten winners will emerge from these nominations and be rewarded with cash prizes. This year's shortlist, and special time to celebrate the beauty of Africa will be announced this week on Sunday the 19th of December 2021, at 6:00 pm (GMT+1). The show will be broadcast live on all LoveWorld networks.
This incredible and valuable program, Future Africa Leaders' Award (FALA) was founded by the LoveWorld President, Pastor Chris Oyakhilome, in 2013 for the purpose of "identifying, celebrating and supporting young Africans who have demonstrated exemplary leadership qualities in various fields by impacting their generation positively through education, youth empowerment and mentoring."
As part of the Chris Oyakhilome Foundation International (COFI), Future Africa Leaders Foundation (FALF) is an NGO that gives a platform to conscientious young people who have plans and a vision to bring about positive changes in their community and country. They are leaders in education, mentoring, and development programs. They take responsibility for community development and medical outreaches in their locations and beyond.
FALF sponsors mentorship programs that enable youths to make an impact by tackling the current challenges facing the African continent. The foundation fosters these young leaders through training and support initiatives aimed at helping them to achieve their full ability and to use their leadership skills to improve the lives of others.
The mission of the foundation is to explore and expand the leadership potentials across Africa because healthy communities and nations rely on strong, innovative leaders to guide them.
The vision of the initiative was to raise financial, political, technological, intellectual, and economic giants who are driven by the challenges in Africa to proffer sustainable solutions.
FALA Acknowledges Leadership
Every year the event attracts the biggest and most prominent partners of the ministry, as well as countless government representatives.
Most winners of the Future Africa Leaders are humbled at the notion of being praised and acknowledged for their work, as they were simply "doing their stuff with no expectation from anybody, or even hope that someone noticed." What the foundation encourages is leadership. "Leadership is the ability to translate vision into reality." Many young people are gifted with the strength and passion to bring about real sustainable change in their community. Their successes and achievements are honored with an award ceremony at the New year's Eve Service on December the 31st.
Examples of Future African Leaders
Young and vibrant future African leaders all around Africa and millions of young people around the world are excited and ready to participate live in the 2021 Future Africa Leaders Nomination Show.
Let's celebrate Young Africans and their phenomenal contribution to nation-building, societal transformation, civic engagement, and youth development!
One example of a Future Africa Leaders' Ambassador,  is Nervis Nzometiah, who together with his team members carried out a cleaning service for the International Day of Service in honor of Chris Oyakhilome's birthday at a community hospital in the Buea municipality in Cameroon.
Nervis and his team members came together to clean the hospital. The team was divided into mini-groups to sweep, mop, and re-arrange the different wards (male, female, children, maternity, labor room, and administrative offices). The cleaning was effectively done; the hospital garden and its surroundings were swept and kept clean and waste products disposed of properly. The cleanup ended with so much joy and excitement.
The hospital workers expressed their utmost gratitude to Chris Oyakhilome, for setting out a day like this where selfless service is rendered to help communities all around the world. Special thanks of appreciation go to Nervis Nzometiah and his team members for the cleanup campaign at the community hospital in Cameroon.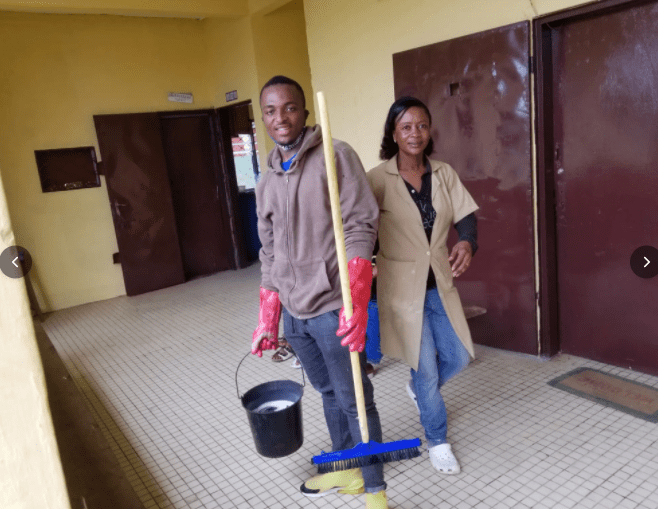 Christian Majeed is another example of a Future Africa Leaders' Ambassador, who carried out a free health screening exercise in Taha, a community in the Northern Region of Ghana. This program was also in honor of founding father, Chris Oyakhilome's birthday.
So many people living in the community lack basic medical healthcare services. Christian Majeed and his team members reached out to over 50 families living in the community with free medical screening and consultation. They also prayed for members of the community and so many people received salvation. The beneficiaries were full of joy and gratitude as they expressed thanks and appreciation. Congratulations to Majeed Christian and his team members for making an impact!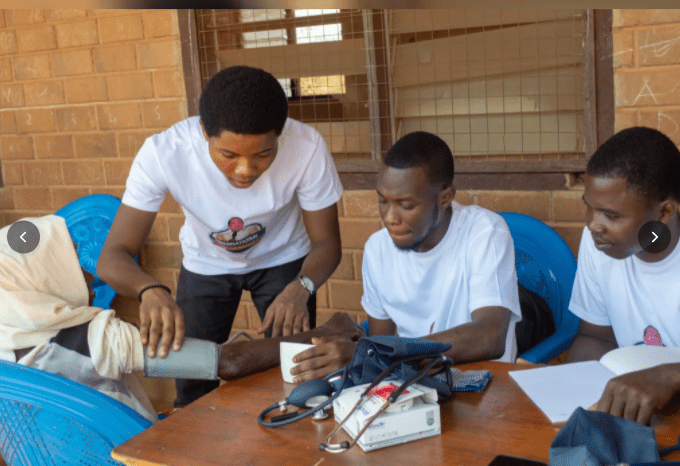 #FALF #PastorChrisGeneration #IMPACTAFRICA #FALA2021