Earlier this year in February 2023, the nations of Turkey and Syria were affected by a 7.8 magnitude earthquake affecting over 17.9 million persons throughout the border region leaving millions in urgent need of aid and healing.
Over 50,000 people died, and hundreds of thousands were left homeless, sheltering in tents and other temporary accommodations. It was estimated that 658,000 people were left jobless, and about 300,000 buildings were damaged. Survivors needed to be rescued, rubble to be cleared, and unstable buildings on the verge of collapse torn down.
Founded by Chris Oyakhilome in 2008, the Chris Oyakhilome Foundation International's (COFI) mission is aimed at eradicating poverty, providing quality education, promoting economic growth, and responding to natural and man-made disasters.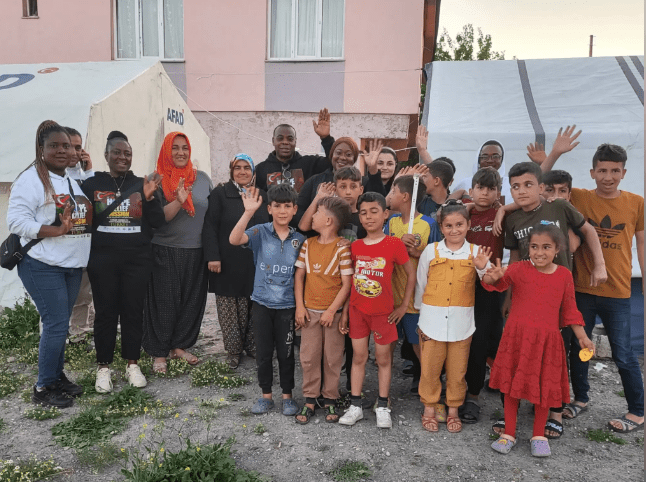 COFI sends relief to Turkey
As a response to the devastating earthquake in Turkey and Syria, COFI sent a relief effort in July to help with the enormous number of displaced individuals living in the IDP camps. They were contending with emotional anguish, despair, frustration, and depression.
This prompted sponsors, partners, and volunteers of COFI to acknowledge the urgent need for a relief campaign that provides psycho-social support services alongside vital relief provisions.
They responded swiftly and impressively to the victims of the Turkey and Syria earthquakes through its Hope Relief Mission.
Over the course of the first 3 days of May 2023, COFI volunteers distributed over 5,000 boxes of relief aid to victims in five different cities at the epicenter of the earthquakes.
The COFI team also spent many hours providing humanitarian aid and meeting with various government officials.
COFI volunteers went to many different locations where over 1,000 victims of the earthquake benefited from the distribution of relief materials. All the victims were grateful to receive the items and expressed their gratitude that someone like Pastor Chris Oyakhilome was praying for them from across the world, giving them hope.
Speaking to the press, Pastor Victor Uba who led the relief team, said in an emotional statement: "This is so heart-wrenching; we just drove past some towns that have been turned to rubble; decent neighborhoods where people lived beautiful lives with dignity, and suddenly waking up and losing their loved ones, livelihood and homes, and they have to now live in makeshift tents on the streets and depending on supplies from people."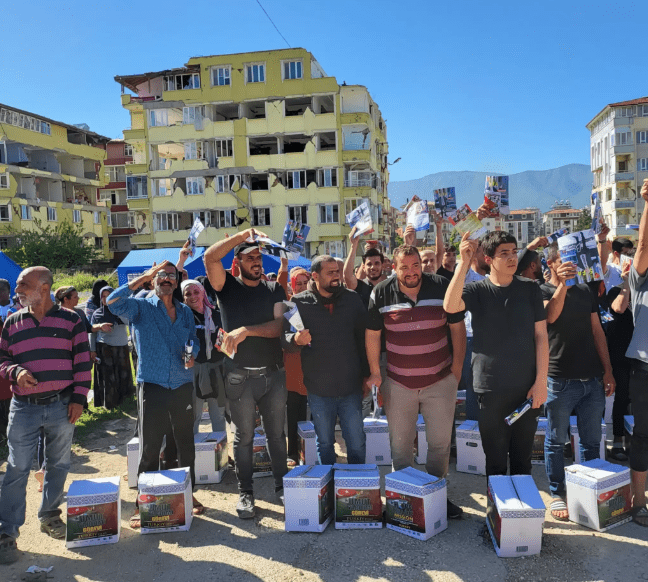 Hope Relief Mission 2.0
More recently, the Chris Oyakhilome Foundation International (COFI) revisited the earthquake victims in Turkey in an intervention tagged, Hope Relief Mission 2.0.
The team took steps to include many of these individuals in the Healing Streams Live Healing Services with Pastor Chris in July 2023. This 3-day healing crusade was the 8th edition of the program, an online quarterly event designed to address the healing of those who suffering, and in need of intervention using principles from the teachings of the Word of God.
From 21st to 23rd July 2023 COFI partners and volunteers traveled to Turkey where they visited 5 cities that were most affected at the epicenter of the earthquake. The Commissioner for Islahiye Ismail Erkmen gratefully said, "Thank you so much Pastor Chris Oyakhilome for giving hope to my people, for sending help before and again. Thank you for bringing healing through the Healing Streams to us."
The people in the city of Nurdagi were deeply moved as COFI volunteers showed them videos of the Healing Streams in Turkish. Many complained of depression, arthritis, and other sicknesses. A Turkish lady narrated her story of how she was the only survivor of her family after burying 15 members who died during the earthquake. This caused her to lapse into depression. The cry of the residents was "Pastor Chris please we need healing, please help us!" They were given relief materials and thanked Pastor Chris for praying for them.
A Journalist for 35 years in Nurdagi, Ramazan Tuncer said "We used to send help to Africa. But at this difficult moment, Pastor Chris Oyakhilome from Africa has remembered us; this makes us emotional. We are grateful." COFI volunteers also visited various cities in Hatay where they shared videos of the Healing Streams translated into Turkish, which immediately lifted their spirits, and left them feeling hopeful. Relief materials were also distributed to the residents of the various cities.
The Ambassador of Nigeria to Turkey, His Excellency Mr. Ismail Abba Yusuf; represented by his deputy, Mr. Zayyad Habu Abdulsalam, received the Chris Oyakhilome Foundation delegation and expressed his appreciation to the team for their positive and uplifting representation of Nigeria to Turkey and for bringing the much-needed help to the victims of the earthquake. He expressed interest in collaborating with the COFI for future work in Turkey.
Prayers offer hope
One of Chris Oyakhilome's most prominent messages in his role as a pastor is the tenet of providing charity to those in desperate need and circumstance. He has often cited prayers as a vital communication pathway between Christians and God saying: "Prayer offers hope and sustains the soul in times of uncertainty, such as those that lie before us."
The prominent pastor's actions offer a true reflection of his teachings.