Just after midnight on New Year's Eve, Chris Oyakhilome, founder of the Chris Oyakhilome Foundation International (COFI) announced the Star Prize Winner of the Future Africa Leaders Award for 2021 (FALA). Ten winners were announced, each receiving $10,000 out of the 30 nominees, and one Star Prize Winner emerged, claiming the $25,000 prize.
Thanks to the vision of our founder Chris Oyakhilome, Future Africa Leaders' Foundation hopes "to raise financial, political, technological, intellectual and economic giants who are driven by the challenges in Africa to proffer sustainable solutions." Every year for the last nine years, at the FALA Awards, Chris Oyakhilome celebrates young African leaders who follow his vision to impact lives and change the future of Africa.
When we look back at the contribution that the Future African Leaders Foundation has had on the landscape of Africa it is evident to see the impact they have had on their continent.
These brilliant and passionate young leaders have achieved so much in their lives and continue to develop, inspire, and empower others through mentoring and training.
At the 2019 FALA Awards, when the Former President of Liberia, Ellen Johnson Sirleaf said: "There is nothing, more or less, that an African leader cannot do" she was addressing some of the brightest and most impactful emergent leaders of our generation.
FALA 2021 Star Award Winner
Congratulations to the 23-year-old Nervis Nzometiah Tetsop, a community builder and technology innovator from Cameroon, who emerged as the Star Award Winner at the FALA 2021 Ceremony. He was presented with $25,000 to help him achieve his future goals of impacting and empowering even more people in his community.
Nervis was recognized for his innovative contributions to educational development, where he inspired and advised youngsters on career opportunities in the field of information technology.
"My driving force is my desire to see young people grow, and community development. In my community, a lot of young people are in need of digital skills, especially in hardware development and computer programming. Our mission is to empower all the people in the community with digital skills that will fit into the latest trends and help build our communities. What I do is not by might but by the vision that God has planted in me. My vision is to develop my community by using technology. I aim at promoting other young people by teaching them skills that will help them in the future," Nervis said when he won the ICT Project of the Year award last year.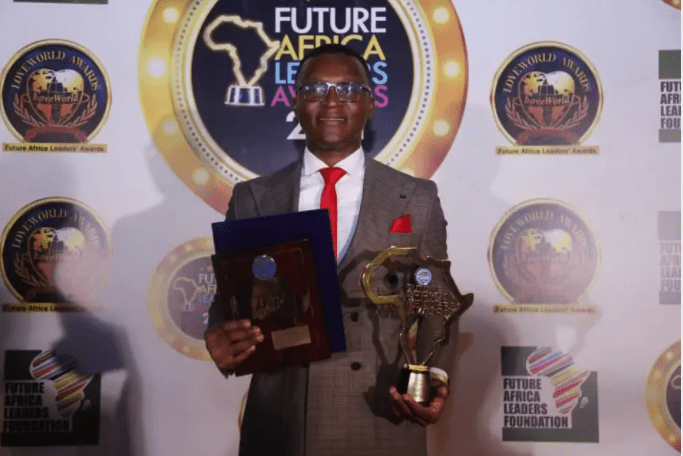 FALA 2020 Star Award Winner
22-year-old Gwei Michael Wawa from Cameroon stood out among his peers to claim the coveted Star Prize Award at the 2020 Future Africa Leaders Awards (FALA) last year.
He demonstrated astounding leadership and innovation through the organization of unique technology-based and humanitarian campaigns, bringing solutions to diverse problems in his country. The young social activist started an NGO that impacted the lives of 18,000 young people. Challenged by the high demand for blood in Cameroon, he was also instrumental in creating a digital Health Service Platform which provides 24-hour online free consultation and support services which helped to raise over 2,400 liters of blood to various hospitals.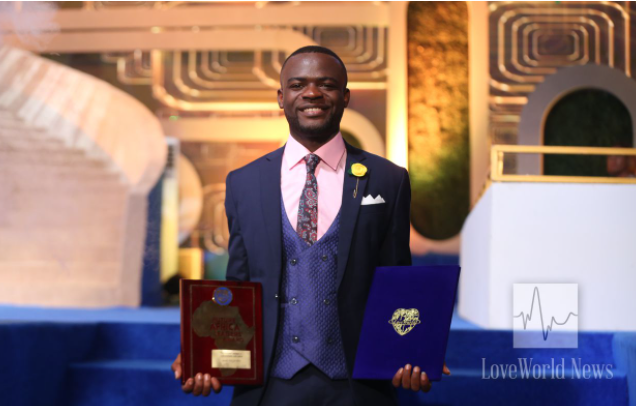 FALA 2019 Star Prize Winner
Babiene Heline Eweni from Cameroon was awarded her prize by the Former President of Liberia and Nobel Prize Winner, Ellen Johnson Sirleaf.
Babiene hosted a 6-week skill acquisition workshop under the "Leadership Initiative Award", which empowered hundreds of young people. She was also involved in programs designed to equip disabled youngsters with self-reliant programs that enabled them independence.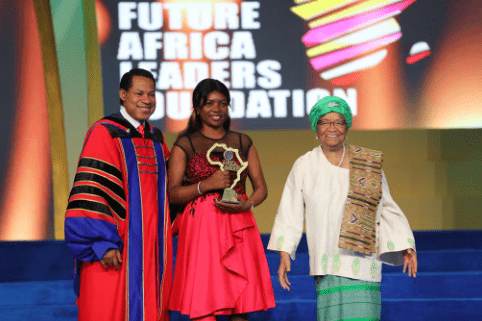 The continuing impact of FALA winners
Looking back at the 2019 nominees, there are many exceptional candidates individuals that stand out.
Among many innovative programs, 21-year-old Hanson Ekpo from Nigeria is the founder of Experteens, which is a distinction-driven organization raising a generation of successful entrepreneurial leaders. Through skills acquisition programs and leadership seminars, he has transformed the lives of over 400 thousand youths. He has been recognized globally and locally for his leadership and mentorship qualities and has been an ongoing asset to his community and society.
Annette Ewusi from Cameroon is another young and determined visionary. She is a passionate youth activist whose NGO 'Change Initiative' brings together like-minded youths who want to effect change. They find viable solutions to local problems. She has a passion to empower women to assert morality educating them on their worth and value to society.
The organization she founded empowers the girl child thereby contributing to the achievement of the sustainable development goals of the United Nations
FALA Star Prize 2017 winner Naomi Ekpoki Aliyu said she was moved to a whole new level when she won the star award in 2017. Not only was she recognized but the whole continent of Africa got recognition too.
She now runs a non-profit organization called Senema Love Foundation, investing in the education of the next generation. Through her NGO, they have built classrooms to teach STEM (Science, Technology, Engineering, and Maths).
2015 FALA Star Prize Winner, Rose Sakala responded to the COVID-19 pandemic in the city Lilongwe, Dedza, and Mangochi through various interventions. Rose and her team collaborated with the Ministry of Persons with Disabilities and the elderly, Ministry of Information and Civic Education, Ministry of Gender, Health Communications 4 Life (HC4L) to disseminate vital information from the Ministry of health to people with all kinds of disabilities, the youth and the elderly.