Chris Oyakhilome, the founder of the Chris Oyakhilome Foundation International (COFI), has been a beacon of light, love, and kindness to millions of indigent children all over the world. He has been responsible for teaching and mentoring millions of individuals through scripture and the Word of God. Our teachers are some of the most influential people in our community, who transform our lives and leave everlasting impressions.
The InnerCity Mission (ICM) is proud to operate under the auspices of the Chris Oyakhilome Foundation International (COFI) to help children live prosperous and fulfilling lives and break the cycle of poverty through education and support. The mission also operates a campaign to help students who have dropped out to return to school. The InnerCity Mission for Children supports a lunch program to ensure students' nutritional needs are met so that they can focus on their studies.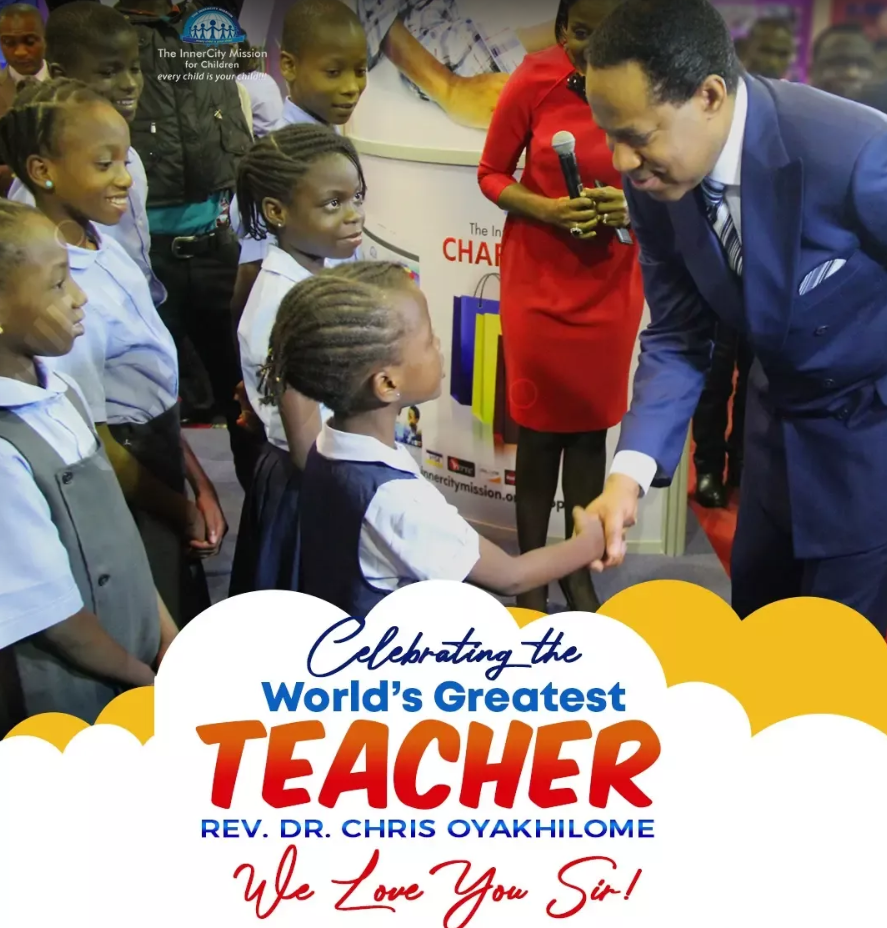 Thank You Chris Oyakhilome
We would like to take this opportunity to thank Chris Oyakhilome for the vision of the InnerCity Mission that beams hope and light in the hearts of indigent children and vulnerable families numbered in the 7 billion Mandate.  Where no one is left behind, and for always teaching us to be God's outstretched arm of love to the poor and to see a need and be inspired to meet it.
World Teachers' Day is held annually on 5 October to celebrate all teachers around the globe.  It is a day to celebrate how teachers are transforming education but also to reflect on the support they need to fully deploy their talent and vocation, and to rethink the way ahead for the profession globally.
World Teachers' Day has been celebrated since 1994, and this year the theme was "The transformation of education begins with teachers".
In a joint message from Ms. Audrey Azoulay, Director-General of UNESCO, Mr. Gilbert F. Houngbo, Director-General, International Labour Organization, Ms. Catherine Russell, Executive Director, UNICEF, Mr. David Edwards, General Secretary, Education International for World Teachers' Day, 5 October 2022, the following was published:
"Today, on World Teachers' Day, we celebrate the critical role of teachers in transforming learners' potential by ensuring they have the tools they need to take responsibility for themselves, for others, and for the planet. We call on countries to ensure that teachers are trusted and recognized as knowledge producers, reflective practitioners, and policy partners."
Every Child is Your Child
Across the InnerCity Mission Network of Schools, our teachers are taking responsibility for the changes needed to build a better future now for our pupils. We celebrate the contributions of our teachers and the millions around the world who make sacrifices to invest in the leaders of tomorrow.
To all the teachers across the InnerCity Mission Network of Schools and everywhere, we say a big thank you for the passion, inspiration, and motivation you instill in students every day.
Having commissioned our 12th 100% tuition-free school and 4th school in Lagos state thanks to our dear partners, sponsors, and volunteers, this school is serving 8 communities in Ibeju-Lekki and hundreds of children from these communities will enjoy 6 years of qualitative early years education at absolutely no cost.
In addition to this, the children receive daily free complimentary school meals. To make dreams come true and change the lives of millions of children, we need your continued support to sponsor ongoing school projects in underserved communities. Click here to make a donation! Together let's continue to cause more indigent children to smile through education sponsorship!