As we approach the New Year and Christmas is behind us, it is important to remember that there are so many less fortunate people around the world. Christmas gives us the opportunity to touch lives with God's love and through the various programs and interventions from the InnerCity Mission (ICM) and Chris Oyakhilome Foundation International (COFI), in line with the United Nations Sustainable Development Goals (SDGs). These initiatives have impacted the lives of over 20 million indigent beneficiaries mostly children around the world in underserved, hard-to-reach communities.
Our founding father, Chris Oyakhilome has said in the past: "The fight against poverty isn't about charity, it is about lending your voice to the plight of the indigent in our world. A world free of poverty, where every child has equal opportunities to thrive and fulfill their God-given potentials."
"Be a hand that reaches out! A smile for those who have no reason to smile! Be a light to those who live in darkness! Show them what it means to truly love! Be the InnerCity Mission to the needy around you this Christmas by sponsoring hearty meals and gifts for them."
The Send Portions campaign will ensure that 1 million children have a memorable Christmas this season. Christmas is a time to give, show love, and express kindness. There is no better way to celebrate this Christmas season, the season of giving, than by putting a smile on the faces of needy children. The annual Send Portions campaign initiated originally by founding father, Chris Oyakhilome, is a special outreach to celebrate children in the inner cities who may not have the opportunity of experiencing the true meaning of Christmas.
We give thanks to all our sponsors, partners, and volunteers for being God's outstretched arm and coloring dreams around the world. May your heart continually be filled with great joy and your mouth with testimonies!  Every year the InnerCity Mission and partners reach out to several thousands of indigent children in orphanages, inner cities, IDPs, hospitals to spread the Christmas cheer, providing them with much-needed food and gifts to celebrate Christmas. To participate in the ongoing Send Portions campaign, you can sponsor portions for children who have nothing prepared. You can be a giver by clicking here.
Join COFI for Our Common Future
In a sustainable future, the poor of today will become productive and active members of society. The Inner City Mission for Children is an NGO that is working to build a brighter future for indigent children all over the world. With food drives, food banks, and the distribution of nourishing meals the cycle of poverty will be broken.
With the alleviation of hunger then the education of our future leaders and workers is a priority. With access to quality education, the cycle of poverty can begin to unravel. Education is the foundation of growth and change within our society.
We think globally these days. All over the world, there are poverty-stricken children crying out to be fed and educated. At Christmas time it is the ideal to give and the gift of love and hope. "This gift would remain as a symbol of God's love even after the food and drinks have been long digested. For many, it might just be the only time they are remembered, and we want to make it count."
Future African Leaders to Pave the Way
In 2019 when the Former President of Liberia, Ellen Johnson said: "There is nothing, more or less, that an African leader cannot do" she was addressing some of the brightest and most impactful emergent leaders of our generation. Since the year 2013, the Future Africa Leaders' Foundation has identified and celebrated young leaders from across Africa. She was addressing the talented and passionate nominees at the Future Africa Leaders Award (FALA) ceremony.
The leadership potential points to a more bountiful future for the continent. Under the guidance of Chris Oyakhilome, thousands of young people are taking the initiative and masterminding projects to alter the path of people in their communities. Every year an increasing number of young people register their projects as part of the 'Future African Leaders Foundation' (FALF).
In its nine-year history, these inspiring young leaders have been presented before a global audience of millions. This gives them further encouragement to achieve much more and it acts as an inspiration to take part.
Pastor TT Edum opened the nomination show together with past winners who announced the nominees for this year. Pastor T.T. has said in the past that it is with "thanks to the Future Africa Leaders Foundation (FALF) for running and expanding this vision initiative of Chris Oyakhilome." The future of Africa is looking stronger than ever as the impact of the Chris Oyakhilome Foundation International (COFI) changes lives daily. FALF 'explores and expands the leadership potential of young Africans.'
He went on to say that "In identifying and celebrating young Africans who have demonstrated exemplary leadership by impacting their generation positively…the future is positive." These awards give encouragement to everyone and inspire the youth of today to do even more.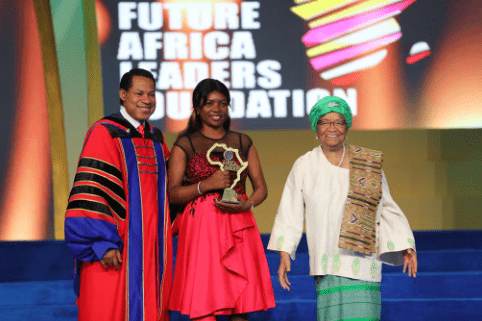 Don't miss the final award ceremony for FALA 2021 this New Year's Eve, streaming live on all platforms.