Chris Oyakhilome Foundation Acknowledges World Children's Day
World Children's day advocates children's rights and urges people to ensure a better tomorrow for children. This is in line with the vision of the founder of the Chris Oyakhilome Foundation International (COFI), Chris Oyakhilome himself, who coined the phrase "every child is your child'.
Through its initiatives, the Chris Oyakhilome Foundation International seeks to offer structured support for impoverished children across the world in order to guarantee access to qualitative education, medical care, physical and spiritual nourishment thus enabling them to lead normal, competitive, and useful lives in their communities and to live out their God-given destinies. COFI believes in supporting strong foundations of community by promoting good governance, accountable leadership, and sustainable development in Africa and in other vulnerable parts of the world.
The InnerCity Mission for Children, under the auspices of Chris Oyakhilome Foundation International, is a Christian non-governmental organization dedicated to breaking the Cycle of Poverty through sponsoring initiatives benefiting children living in poverty in inner cities. The organization has been awarded Consultative Status to the United Nations, the highest status granted to non-governmental organizations, allowing the Mission to be an active participant in initiatives operated by the United Nations.
The InnerCity Mission for Children envisions a "world in which orphaned, deprived, excluded and vulnerable children in the inner cities live free of poverty and fulfill their God-given potential, thus becoming responsible and self-reliant adults, profitable to the society."
InnerCity Mission for Children initiatives benefit children living in poverty in the inner cities by delivering sustainable solutions giving them hope and a future. The Mission believes that the solution to enacting long-lasting positive change for these children in inner cities is through the exhilarating teachings of the Word of God.
The InnerCity Mission for Children identifies orphaned and vulnerable children, their families, and communities in need of service. The Mission works to deliver sustainable interventions to these children, their families, communities, and the institutions serving them. Initiatives sponsored by the Mission work to foster change through supporting community institutions and promoting the awareness of the dire social consequences of society's neglect.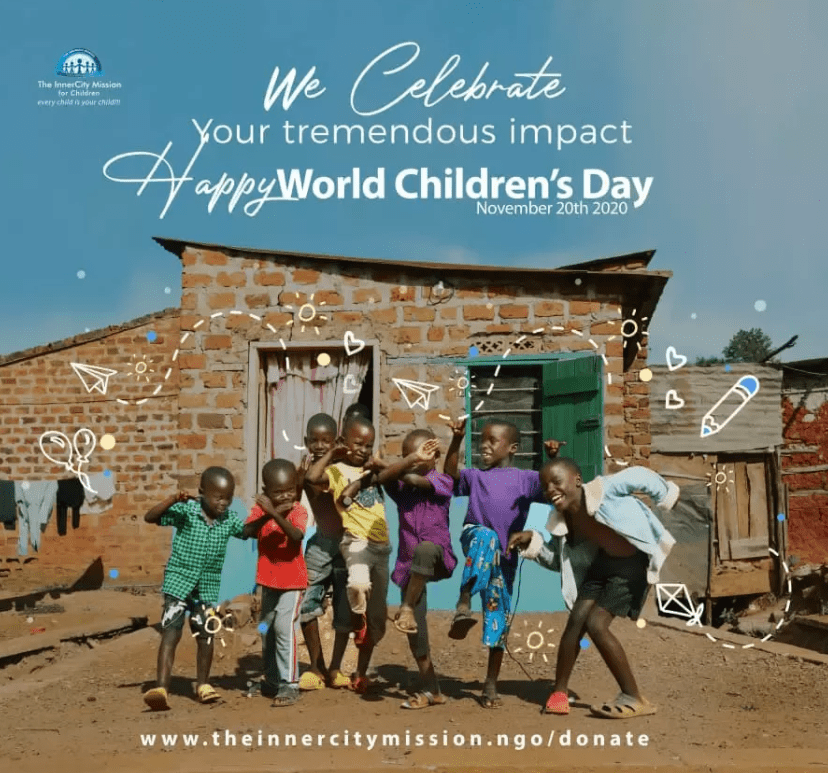 World Children's Day
World Children's Day was first established in 1954 as Universal Children's Day and is celebrated on 20 November each year to promote international togetherness, awareness among children worldwide, and improving children's welfare.
November 20th is an important date as it is the date in 1959 when the UN General Assembly adopted the Declaration of the Rights of the Child. It is also the date in 1989 when the UN General Assembly adopted the Convention on the Rights of the Child.
Investing in our future means investing in our children, which is why the United Nations has designated every November 20 as Universal Children's Day. It's a time to promote togetherness around the world, awareness of the problems children face in every corner of the globe, and improve the welfare for all children. Mothers and fathers, teachers, nurses and doctors, government leaders and civil society activists, religious and community elders, corporate moguls and media professionals, as well as young people and children themselves, can play an important part in making World Children's Day relevant for their societies, communities, and nations.
World Children's Day offers each of us an inspirational entry-point to advocate, promote, and celebrate children's rights, translating into dialogues and actions that will build a better world for children. This year, the COVID-19 crisis has resulted in a child rights crisis. The costs of the pandemic for children are immediate and, if unaddressed, may last a lifetime.
When speaking to the youth, they agree that it's time for generations to come together to reimagine the type of world we want to create. As the world responds to the COVID-19 pandemic, "the rights of every child everywhere, need to come first in any recovery plan", they stated.  "We see our generation facing challenges as never before in our lifetimes, millions of children are missing out on basic health care, are being cut off from education, and are facing poverty and violence every day", the youngsters said. "The COVID-19 pandemic took away 'normal', but for us, 'normal' was never good enough anyway."
The entire world has been struggling due to the coronavirus pandemic. A pandemic that started in China spread across the globe within a month and claimed the lives of several people. As a result of the outbreak, a lockdown was imposed in the country and people were forced to stay indoors. Normal activities like playing outdoors, taking walks, and visiting public places turned into luxuries as people were advised to remain indoors. As normal life came to a standstill, several people including children felt mental stress. Adapting to changes and accepting the 'new normal' took a toll on the mental health of several people. From attending classes online to not going out for playing, children also struggled due to the outbreak and battled issues. Constant efforts must be made to ensure that the mental health of children does not take a hit.
Education in Emergency
Be a part of this rewarding partnership, as both organizations aspire to give the life of every indigent child meaning, give them hope, and provide for them a prosperous future. Click here and give today to this ongoing initiative: https://icm.ngo/eie