The Chris Oyakhilome Foundation International (COFI) founded by Chris Oyakhilome in 2008 has become one of the most distinguished charitable organization in Africa. COFI supports communities by promoting sustainable development and accountable leadership throughout Africa and other vulnerable parts of the world. One of the humanitarian organizations operating under the COFI umbrella is Future Africa Leaders Foundation (FALF).
The Future Africa Leaders Foundation is an initiative that seeks to identify, foster and celebrate young African leaders making a positive impact in their communities. The foundation seeks to provide African youth with educational opportunities to empower and prepare them for a positive future, ensuring strong innovative leaders to guide communities.
The Future Africa Leaders Foundation awards outstanding young leaders annually at the Future Africa Leaders Awards (FALA) ceremony. To mark the 10th anniversary of the prestigious FALA Awards, the Chief Operating Officer of LoveWorld Incorporated, Pastor Ifeoma Chiemeka, revealed at a press conference that COFI had invested a cash grant of over N1 billion in the last 10 years on families across the continent of Africa.
According to the COO, the foundation has been working tirelessly to nurture financial, technological, intellectual, and economic minds to add value to Africa's growth and development through the Leadership Initiative award.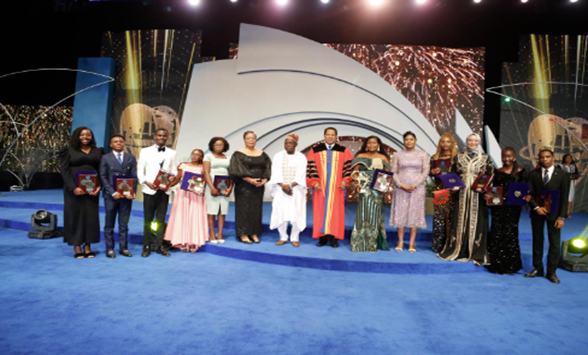 Stating the Facts
COO of LoveWorld Incorporated, Pastor Chiemeka stated in a press conference last week, that the Future Africa Leaders Foundation has inspired and motivated over 73,829,127 young people to carry out 25,848,816 sustainable projects that benefitted 17,823,160 families in 54 African countries with a cumulative project engagement margin of 110 percent.
Pastor Chiemeka highlighted sustainable projects that were executed by young Africans, by mentioning the youth empowerment project in Lycee Technique Congo Brazzaville. This project impacted over 2,175 people, and the Hygiene mentorship program organized in Green Land School Kenya, made a huge difference to over 520 students, who were taught the importance of hygiene.
In Nigeria, several projects and programs were executed through the Leadership initiative award, and these include, teenage technology and digital awareness project, technology workshop projects, and environmental sustainability campaign projects among others.
In her speech, Pastor Chiemeka said: "To eradicate poverty and foster economic growth, a food and resource material distribution was carried out in Malawi, where over 500 orphanage children were provided with foodstuffs, hygiene kits, relief items, and educational materials."
She continued by saying: "Recognising the necessity to change Africa's narrative and the need to contribute immensely to nation building, the Future Africa Leaders Foundation organized the annual historic Africa Day event where young people were mobilized to execute over 2,000,000 Humanitarian acts of services, organize 1,302 conferences and summits impacting 81,650,329 Families across the continent of Africa."
Celebrating the latest FALA Star Prize Winner
Lebsey Petmia Lebaga, a 22-year-old Cameroonian defeated all the other contestants to achieve the desired Star Prize Award from the 2022 Future Africa Leaders Awards (FALA), which took place on December 31 at the New Year's Eve Service with Chris Oyakhilome himself.
Lesbey displayed outstanding leadership skills through the excellent application of science and technology to impact lives in her nation and abroad. She has made significant contributions to Cameroon through her innovation in the health industry.
Over 8000 young people in Cameroon have benefited from the conferences and seminars that Lesbey arranged. She pioneered the creation of an online clinic, where over 1000 patients received free Hepatitis B and HIV/AIDS screenings.
We hope to see the significant contribution of many of these young African leaders in the future of their communities, cities, and countries.