Girls are ready for a decade of acceleration forward. It is time for us all to stand accountable – with and for girls – and to invest in a future that believes in their agency, leadership, and potential.
Give girls an opportunity to lead by putting them at the forefront of change efforts; hearing their voices; responding to their asks, and welcoming them into decision-making spaces.
In 2022, we commemorate the 10th anniversary of the International Day of the Girl (IDG), with the theme: "Our time is now – our rights, our future"
The International Day of the Girl Child focuses attention on the need to address the challenges girls face and to promote girls' empowerment and the fulfillment of their human rights.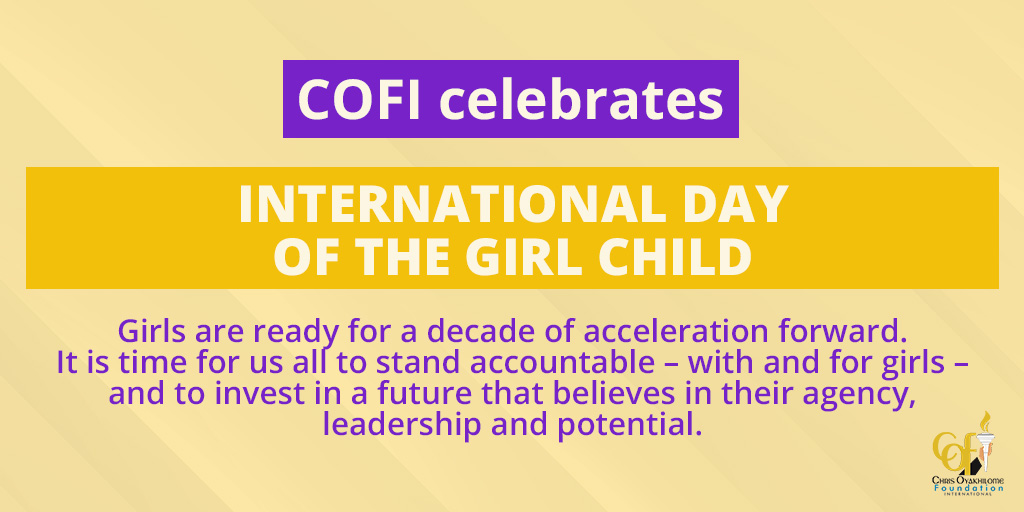 Girls are Breaking Boundaries
Girls around the world continue to face unprecedented challenges to their education, their physical and mental wellness, and the protections needed for a life without violence. COVID-19 has worsened existing burdens on girls around the world and worn away important gains made over the last decade.
With adversity, however, comes resourcefulness, creativity, tenacity, and resilience. The world's 600 million adolescent girls have shown time and time again that given the skills and the opportunities, they can be the changemakers driving progress in their communities, building back stronger for all, including women, boys, and men.
Every day, girls are breaking boundaries and barriers, tackling issues like child marriage, education inequality, violence, climate justice, and inequitable access to healthcare. Girls are proving they are unstoppable.
The International Day of the Girl Child focuses attention on the need to address the challenges girls face and to promote girls' empowerment and the fulfillment of their human rights.
Sustainable Development Goals
The 2030 Agenda for Sustainable Development and its 17 Sustainable Development Goals (SDGs) adopted by world leaders in 2015 embody a roadmap for progress that is sustainable and leaves no one behind.
Achieving gender equality and women's empowerment is integral to each of the 17 goals. Only by ensuring the rights of women and girls across all the goals will we get to justice and inclusion, economies that work for all, and sustaining our shared environment now and for future generations.
Empowering women and girls and promoting gender equality are crucial to accelerating sustainable development. Ending all forms of discrimination against women and girls is not only a basic human right, but it also has a multiplier effect across all other development areas.
Chris Oyakhilome Foundation International (COFI) strives to make an impact on the lives of those who the world forgets. Working in partnership with local organizations in both the public and private sectors COFI works to eradicate poverty. The many different NGOs that make up COFI not only works to counter the effects of poverty but to build a sustainable future. One of the biggest contributors to ending poverty is ensuring children have an education. For any child, education can open doors to the future that would otherwise be locked tight.
Investing in female potential
Today, education is at the heart of the Sustainable Development Goals, as set by the United Nations. Education is a human right, a public good, and a public responsibility. Through various initiatives, the InnerCity Mission (ICM),  under the umbrella of Chris Oyakhilome Foundation International (COFI), and a network of partners and volunteers are reaching out to hundreds of thousands of children in needy communities all around the world, to try and provide essential educational materials to enhance learning at home and promote literacy skills, making it easier, more interactive and convenient whilst awaiting the resumption of school.
Education can be the catalyst needed to pull families and communities out of the cycle of poverty. Knowledge gives children the power to dream of a better future and the confidence needed to pursue a full education, which in turn will help generations to come. Education is that building block that helps to build a sustainable society.
Primary education provides children with the foundation for a lifetime of learning, while secondary education equips them with the knowledge and skills needed to become empowered and engaged adults.
An estimated 40 percent of the poorest countries failed to support learners at risk during the COVID-19 crisis, and past experiences show that both education and gender inequalities tend to be neglected in response to disease outbreaks. Domestic chores, especially for girls, and the work required to run households or farms, can also prevent children from getting sufficient learning time. As with previous pandemics, COVID-19 has shown that education institution closures represent an increased risk for women and girls, as they are more vulnerable to multiple types of abuse, such as domestic violence, transactional sex, and early and forced marriages.
A recent study highlights that women are bearing a greater share of additional time spent on childcare and household tasks. Coupled with the present economic disruption, this will likely contribute to higher earning gaps, thus widening gender inequality. Girls have the same right to education as boys do. Educated girls can make informed choices, and build stronger families, communities, and economies. An educated female population increases a country's productivity and fuels economic growth.