The Chris Oyakhilome Foundation International (COFI) is proud to join the world in commemorating World Day of Social Justice on the 20th of February.
This is an international day that recognizes the need to promote equality and social justice, also known as Social Justice Equality Day. This includes issues such as poverty, gender inequality, unemployment, human rights, and social protection.
The theme this year is "Overcoming Barriers and Unleashing Opportunities for Social Justice".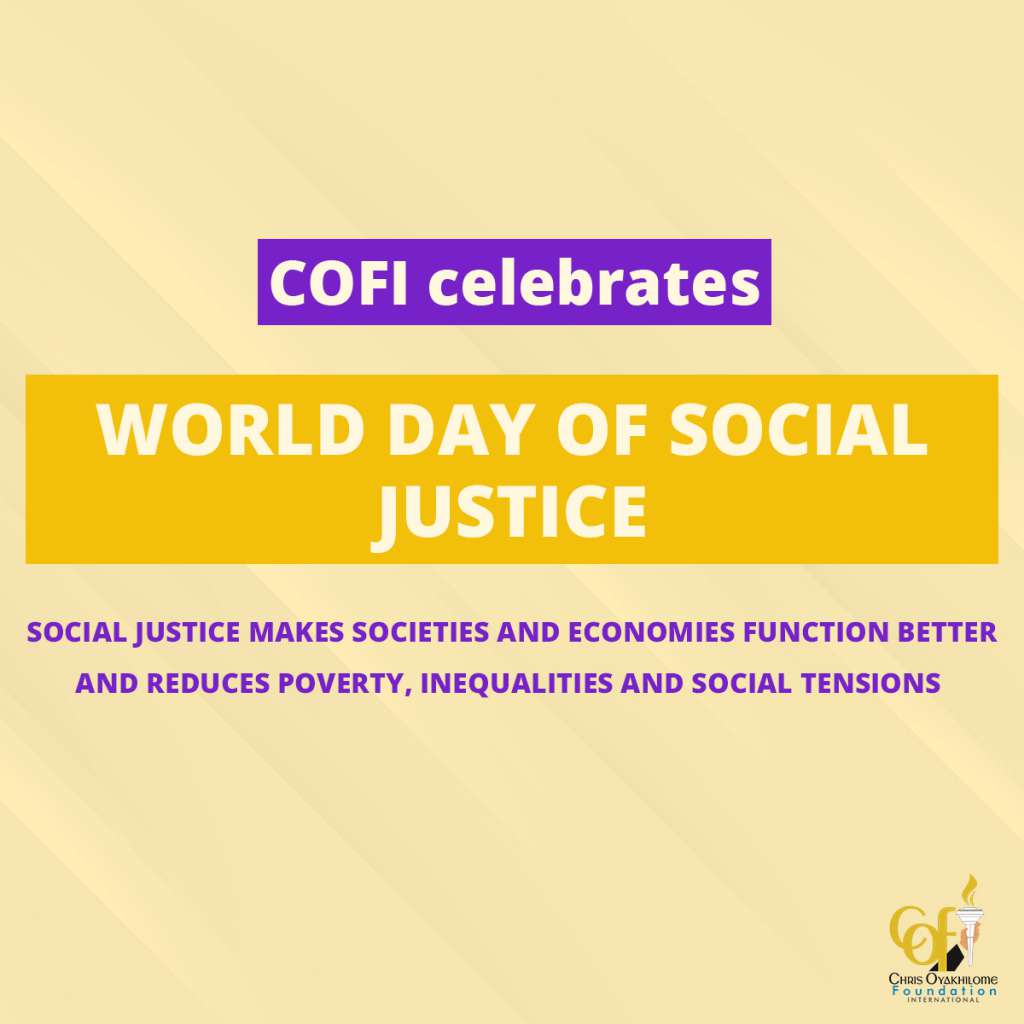 Make A Difference With COFI
The United Nations website says that poverty and inequalities within and among countries are on the rise in many parts of the world.
The economic and social crises of recent years have been heightened by the repercussions of the socio-economic global destruction caused by the COVID-19 pandemic,  and natural disasters.
The website states: "Beyond the human tragedies associated with them and their impact on the world of work, these crises have highlighted the interlinkages and dependencies of economies and societies around the world and shown the crucial need for concerted action to respond to them, at global, regional and national levels."
Many of the world's population, through no fault of their own, are deprived of basic facilities, such as homes, jobs, healthcare, education, nutrition, and more.
One of the biggest contributors to ending poverty is ensuring children have an education. For any child, education can open doors to the future that would otherwise be locked tight. Children who are not in school are at greater risk of exploitation and early marriage. They're on track for a much lower income once they grow up. This limits the future of their own children, thus repeating the cycle of poverty generation after generation.
This is why Chris Oyakhilome together with COFI and ICM places such an emphasis on education and building schools as a path to breaking the cycle of poverty. Through its various initiatives, COFI, which is a faith-based non-governmental, non-political organization under the direction of its visionary and legendary founder, Chris Oyakhilome, seeks to offer structured support for impoverished children across the world in order to guarantee access to qualitative education, medical care, physical and spiritual nourishment thus enabling them to lead normal,  competitive and useful lives in their communities and society.
Our goal is to show the world that ending poverty is possible and we won't stop until every child, man, and woman can enjoy a life free from poverty which is our at the InnerCity Mission.
New Campaign for February
This  month we are launching the #1BillionMealsCampaign
In Proverbs 19:17 it is written: "When you help the poor you are lending to the Lord—and he pays wonderful interest on your loan!"
Let's make history together for, "The most distributed meals to the needy in one year". Starting today, you can sponsor meals through the Give A Meal App. Available for download on the Loveworld App Store, Apple Store, and Google Play store. More information would be communicated at the Grand Launch. Date: 23rd Feb Time: 4:00 pm GMT +1, register here.