Lebsey Petmia Lebaga, a 22-year-old Cameroonian excelled above her colleagues by winning the desired Star Prize Award from the 2022 Future Africa Leaders Awards (FALA), which took place on December 31 at the New Year's Eve Service with founding father of the Chris Oyakhilome Foundation International (COFI), Chris Oyakhilome himself. He also serves as the president of LoveWorld and Grand Patron of the Future Africa Leaders Foundation (FALF).
Lesbey has been exceptional throughout the year, displaying outstanding leadership skills through the excellent application of science and technology to impact lives in her nation and abroad. Her inventiveness in using technology to address societal concerns has been wildly recognized in Cameroon as she has contributed significantly to innovation in her country.
Over 8000 young people in Cameroon benefited from the conferences and seminars that Young Lesbey arranged. She pioneered the creation of an online clinic, and more than 500 users have attested to their favorable experiences with it.
More than 1000 patients received free Hepatitis B and HIV/AIDS screenings, and several were directed to get medical help. She was the first young person in Cameroon to start an online clinic, which earned her the title of most excellent innovative enterprise in the nation.
In addition to several other inspiring humanitarian projects in Cameroon, young Lebsey was awarded the Star Prize at Pastor Chris' New Year's Eve Global Service. Lebsey Petmia Lebaga has achieved a lot in her life.
As she gracefully approached the stage to accept her well-deserved award—which includes a 25,000 USD cash prize—she celebrated yet another significant victory.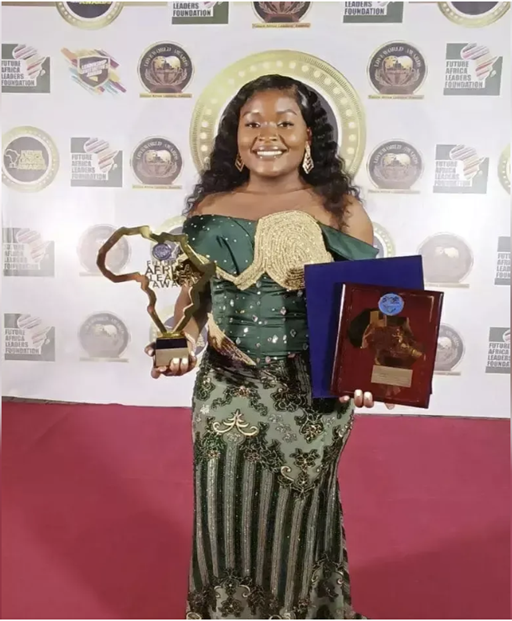 Other Young African Leaders Making their Mark on the Future
Lebsey Lebaga, 22, was joined by nine other young leaders who were also recognized with honors at the evening's event in changing lives in their nations and the African continent. Through numerous excellent acts of humanitarianism, these young leaders established themselves as genuine future African leaders. To further expand their sustainable projects, they will receive a cash prize of 10,000USD:
Victor Eyo from Nigeria
Grace Lekwuwa from Benin Republic,
Portia Manyaya from Ghana,
Azariah Tendayi Chidzungu from Malawi,
Bakaki Yusuf from Uganda,
Hidaya Tlemcani from Morocco,
Elizabeth Aguil from South Sudan,
Gracious Mazivanhanga from Zimbabwe,
Princess Mayamiko from Zambia
After achieving astounding feats throughout 2022, these young individuals celebrated their FALA award.
The Future Africa Leaders Foundation, now in its tenth year, has consistently honored the efforts of young Africans who take on various leadership roles and overcome seemingly insurmountable difficulties in academics, agriculture, and different economic sectors throughout Africa. Since then, these young leaders have persisted in finding solutions to the various issues that plague many people on the African continent.
The man of miracles, Chris Oyakhilome, reaffirmed that, in contrast to the beliefs of those who think nothing positive can come out of Africa, Africa is a place of hope and a promising future. He urged the champions of the moment to keep bringing dignity to Africa.
All of the 2022 FALA winners deserve warm congratulations as they continue to inspire the youth of Africa with their innovations and leadership. We at COFI cannot wait to see what is next on their horizons as they shape the future of Africa.