Millions of children have benefited this season with the 'Acts of Love' campaign. There are many opportunities available in every community to do something good for someone else. These acts of love have the capacity to change lives forever. Throughout the month of February, we will be motivating people all around the world to look beyond their friends and loved ones, and show love to indigent children through the 'Acts of Love' campaign, through the InnerCity Mission (ICM) and Chris Oyakhilome Foundation International (COFI).
Act 8: Provide Hygiene Kits for School Children
Children want to look good and feel good every day at school. Good hygiene is an important part of a young child's health, wellness, and self-esteem. Personal hygiene is an important form of self-care that will ensure that your child will lead a healthy life. Forming good hygiene practice from early childhood can have a positive effect on your child's growth and development. Your child will also learn to be independent and boost their confidence. By washing their hands regularly, children will lower their risk of contracting COVID-19 and also prevent the spread of any other virus or bacteria to their peers.
By donating Hygiene kits to indigent children, will help achieve this goal. Here are a few items that things you can donate; tissue paper, soap, hand wash, toothbrushes and toothpaste, hairbrushes and combs, hand sanitizers, hand towels, deodorant, and any items that you may think will benefit these children.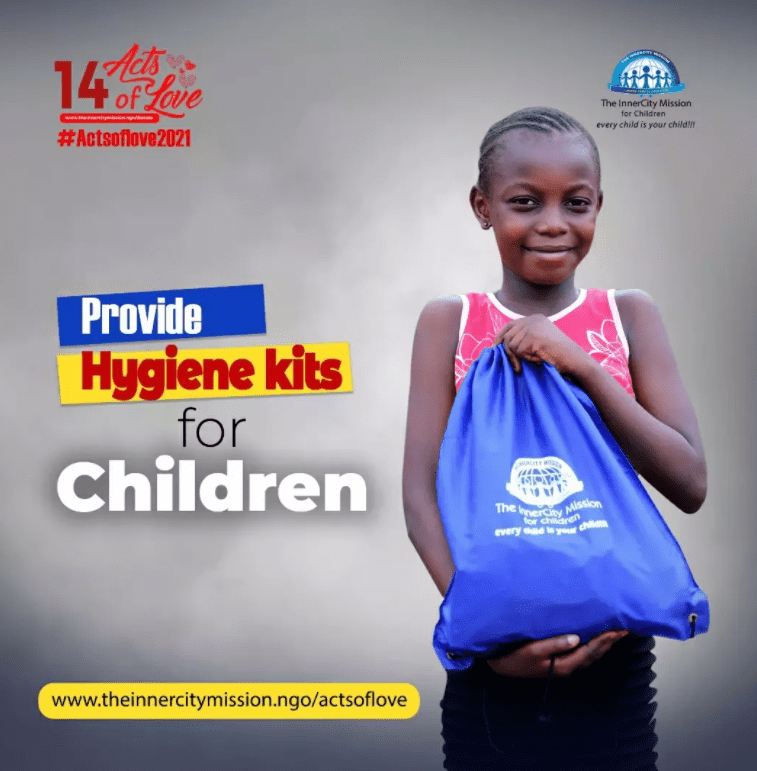 Act 9: Spread the Word about the InnerCity Mission in Social Media
Social media gives you an opportunity to talk about what you know and what you want to be known for. Make a post on your timeline about the InnerCity Mission using the hashtag #Actsoflove2021. With every post you make, like, share, comment, you are spreading the word of the InnerCity Mission everywhere around the world. Social Media is a great tool for promoting an NGO like Chris Oyakhilome Foundation International (COFI), campaigns, welfare activities, and donations for charity.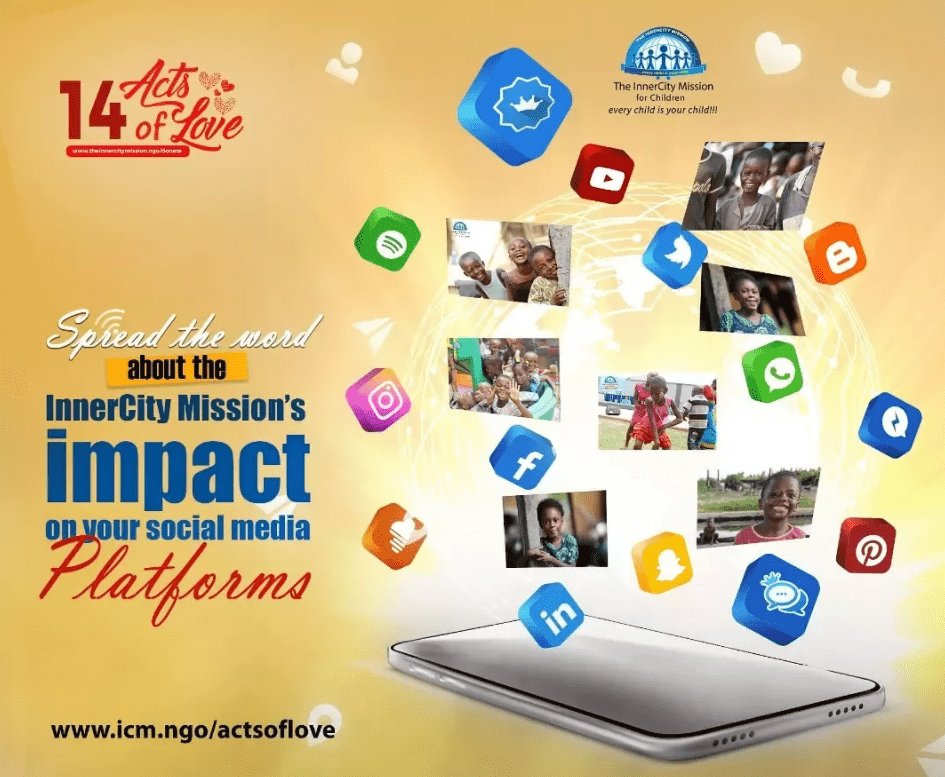 Act 10: Gift Meals on the 'Give A Meal' App
The 'Give A Meal' app gives you the opportunity to provide meals on the go for indigent children around the world. Giving is very easy, with just a tap on your mobile device you can sponsor as many meals as possible for as little as $1. This love season, show your love by sponsoring meals for indigent children.

Acts of Love
As children grow, play remains an important exercise for learning and development. It is through play that children at a very early age engage and interact in the world while building their social skills. Thank you to our volunteers in Botswana for providing a wonderful, interactive playground for pupils of Gelaletsang school in phase 2, Gaborone to commemorate the #14ActsofLove campaign.
To commemorate the Acts of Love campaign, Loveworld Zone K visited an IDP Camp in Benue state. This outreach was a huge success as they donated food items reaching almost 240 children. They also led 106 children to Christ and taught the children bead making and how to pronounce the alphabet. Congratulations Loveworld Zone K on a successful outreach campaign.
To participate in the #ActsofLove campaign visit theinnercitymission.ngo/acts-of-love
#EndChildPovertyNow #EveryChildIsYourChild