Chris Oyakhilome shows us that Easter is all about love, sacrifice, and grace. In the spirit of Easter, the InnerCity Mission (ICM), under the auspices of Chris Oyakhilome Foundation International (COFI), will be spending Easter showing the needy that Jesus Christ has paid the full price through His death, burial and resurrection.
This Easter, as it is our custom every year, is all about spreading the Love of Jesus Christ. Through this specialized Easter outreach to needy children, volunteers, sponsors, and partners are saying "come and buy for free because Jesus has paid it all". With this, we are spreading the good news that poverty has been buried, and the Lord Jesus Christ, the light of life has risen forevermore!
The Bible in Psalms 107:1 says: "Let everyone give all their praise and thanks to the Lord! Here's why – he's better than anyone could ever imagine. Yes, he's always loving and kind, and his faithful love never ends." There are a lot of reasons to give thanks to God. One of them is for the beauty of lives transformed through our robust programs and interventions.
This Easter you have the opportunity of providing the community members with free clothing for adults and children of all ages, shoes, household items, personal hygiene items, food packs, and lots of other amazing things, all in the spirit of Easter, the resurrection of our Lord, and Saviour Jesus Christ and the glorious life he has given us. You can support our Easter outreach this week, and make a difference in the lives of many individuals.
The InnerCity Mission together with its partners and sponsors is readily available to aid needy children and their families, and bring the Word of God to them, thereby helping them receive salvation, bearing in mind that there is no love without giving, for God first loved us that he gave his son Jesus to save the whole world.
Our #HungerActionMonth campaign also serves as a reminder that hunger is still the world's most solvable problem. Beyond talking about the importance of food, we are raising awareness for children and families who do not have what to eat.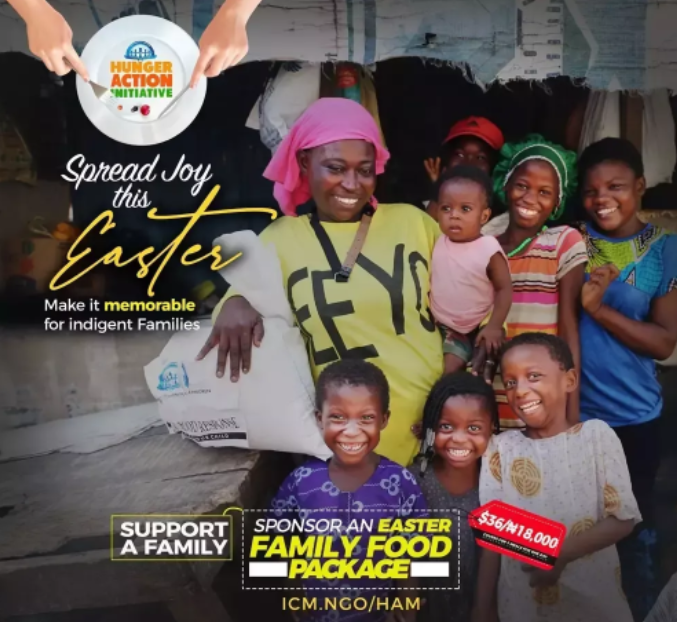 All things are possible says Chris Oyakhilome
Chris Oyakhilome besides being a passionate philanthropist is also a world-renown Man of God and founder of Christ Embassy, the LoveWorld Nation, one of the largest churches in the world. As an ambassador for Christ and with such a diverse and successful ministry, it's easy to see how Pastor Chris's message has reached so many souls, his charity also provides sustenance to indigent children.
Being the philanthropist that he is, Chris Oyakhilome encourages the world to contribute to needy children and families living in underserved communities, saying:
"You would discover greater treasures the Lord has deposited in you if you reach out to others."
The Bible in Mathew 19:26, says that Jesus looked at them and said, "With man, this is impossible, but not with God; all things are possible with God."
In the current climate, most indigent children and families struggle to eat three times a day, even a daily meal now seems almost impossible, but as outstretched arms of God, we are making it possible through the #HungerActionMonth Campaign.
"Whatever is true, whatever is noble, whatever is right, whatever is pure, whatever is lovely, whatever is admirable, if anything is excellent or praiseworthy, think about such things." (Philippians 4:8)
We wish you a meaningful Easter this year and remind you that you can always make a difference.