Earlier last week, devastating floods and landslides affected Southern and South-Eastern South Africa, particularly the Provinces of KwaZulu-Natal and Eastern Cape, with a death toll of over 443 people in KwaZulu-Natal.
Over 40,000 people have been displaced, while nearly 4,000 houses were destroyed including more than 300 damaged Schools as well as Health Facilities, mostly across Durban City and its surrounding areas.
Consequently, the Government declared a Nation-Wide State of Disaster. Survivors are in urgent need of Emergency Food Supplies, Water, Medical Care, and Psychosocial Support as there is limited or no access to shelter, safe water, and food.
In response to these devastating floods and landslides that affected Southern and South-Eastern South Africa, the Chris Oyakhilome Foundation International (COFI) and its Member Agencies have been deploying the Hope Relief Mission Project to provide much-needed humanitarian aid for affected Households in South Africa.
You can join the Chris Oyakhilome Foundation International to bring Hope, Relief, and Salvation to affected Households in Kwazulu-Natal.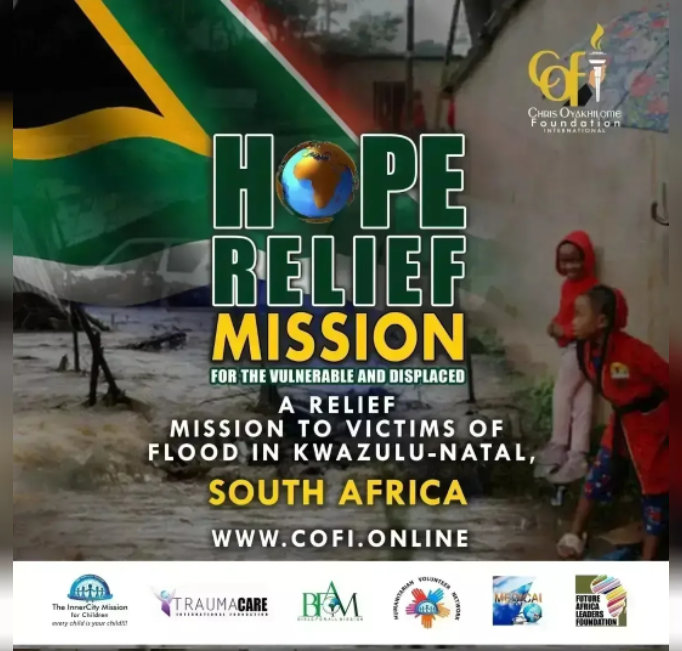 Another HAM for COFI
May is also once again Hunger Action Month (HAM) with the Chris Oyakhilome Foundation International (COFI) and the InnerCity Mission (ICM).
Our #HungerActionMonth Global Food Distribution is impacting lives around the world where the need is greatest.
We are so grateful to see the beautiful impact our volunteers around the world are making through the Hunger Action Month Campaign, distributing nutritious meals to needy children in poor communities.
The founding father of Chris Oyakhilome Foundation International (COFI), Chris Oyakhilome was quoted as saying: "Global poverty is one of the very worst problems that the world faces today, the poorest in the world are often hungry, have much less access to education, regularly have no light at night, and suffer from much poorer health. Making progress against poverty is, therefore, one of the most urgent global goals."
Eradicating poverty has always been a top priority at the InnerCity Mission (ICM). The InnerCity Mission has had remarkable achievements over the years, which are clear testimonies of the unwavering commitment to finding lasting solutions to the issue of poverty.
This is the dream and the legacy of Chris Oyakhilome himself, who launched the Hunger Action Month (HAM) Campaign earlier this year.
Nobody wants to worry about where their next meal is coming from. Yet over 800 million people around the world suffer from chronic food deprivation on a daily basis.
Global hunger creates a cycle that people can't escape from. It causes individuals to be less productive and more prone to disease, which in turn makes them less able to improve their livelihoods or earn a better income. But with the planet producing enough food to feed everyone, why are so many people going hungry? Get the facts about world hunger and what you can do to help.
Millions of people are too poor to buy food
The main cause of hunger worldwide is poverty. Millions of people around the world are too poor to afford to buy food. They also lack the resources to grow their own food, and even to store it.
There are many causes of poverty that contribute to the problem of world hunger. When people are undernourished, they tend to be weak and unhealthy. If hunger makes it hard to grow and learn, it's no surprise that these people can't rise up to break the cycle of poverty and hunger.
We need to find ways to reduce food waste and improve food distribution worldwide so that world hunger might one day finally become a problem of the past.
Hunger is more than just having enough food to eat – it's about having enough nutritious food to eat. The right to food is a basic human right.
By supporting this campaign, you are ensuring that hope and help through food support gets to the needy speedily.
Food Distribution is to be carried out in the following strategic locations to benefit indigent children and families; First to undeserved and hard to reach communities, second, to schools in underserved communities, third to IDPs/refugee camps, and fourth to orphanages, and fifth to other Child Care institutions. Despite the rise in the number of people living in poverty, we believe that everyone deserves to live in dignity.
The InnerCity Mission (ICM) through programs and initiatives is committed to ending extreme poverty and creating a world where every child has equal opportunities to thrive and fulfill their God-given potential. Building forward means no one is left behind.