Saluting Mothers in all Forms With The Chris Oyakhilome Foundation
Mothers are a precious gift to us and this year, to commemorate mothers and make it a special day, InnerCity Mission part of the humanitarian network, under the auspices of the Chris Oyakhilome Foundation International (COFI), is running a campaign to sponsor a food box for indigent mothers as every mother deserves a "thank you", help us put a smile on the face of a mother in dire need.
"A mother is someone to shelter and guide us,
To love us, whatever we do,
With a warm understanding and infinite patience,
And wonderful gentleness, too." – Katherine Nelson Davis
Recall a person in the past or present — woman or man — who gave you mother love — nurturing, embracing, compassionate, guiding, fierce, unconditional love. See and feel the love in your heart to acknowledge it as such. And stay open to receiving more of that mother love in healthy ways.
The meaning of being a mother is virtually endless. A mother is a protector, disciplinarian, and friend. A mother is a selfless, loving human who must sacrifice many of their wants and needs for the wants and needs of their children. A mother works hard to make sure their child is equipped with the knowledge, skills, and abilities to make it as a competent human being. A mother is not defined solely as the person who gave birth to the child, and in this case, we refer to the thousands of sponsors, volunteers, and partners who together with our founding father, Chris Oyakhilome, provide the loving role of a "mother" to thousands of indigent children.
This week we celebrated Mothers Day and paid tribute to all the wonderful "mothers" out there who make a difference in so many lives. A mother is more than a woman who bears children. A mother is one that nurtures, trains, corrects, and encourages. A mother is an embodiment of many things. We at COFI celebrate all mothers and mother figures around the world.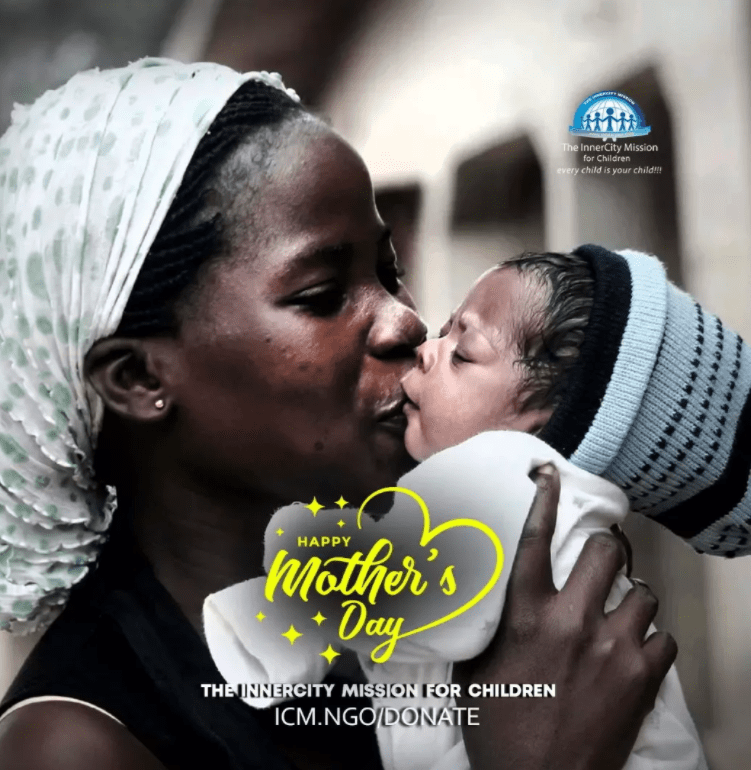 A Little Love Goes a Long Way
In February each year, the Inner City Mission for Children runs a campaign to increase the love sent to indigent children. These 'Acts of Love' have the capacity to change lives forever, and are done throughout the year to make a lasting impact. If love was a commodity, how much would it be sold for? How many people will be able to buy it?
Philanthropist and founder of the Chris Oyakhilome Foundation International (COFI), Chris Oyakhilome reminds us that, "each time you have the opportunity to give, be excited." We all have different means with which to give these 'Acts of Love', do them with joy. Over the years the campaigns, programs, and initiatives of the Chris Oyakhilome Foundation International and the InnerCity Mission have impacted the lives of millions of people in need,  mostly children, around the world in hard-to-reach communities.
Acts of Love Come in Many Forms
The message of love that delivers hope to so many children comes in many forms. The Inner-City Mission For Children delivers parcels of love on a regular basis and in various different forms. We strive to eradicate poverty and hunger and many initiatives are centered on food campaigns and education.
The InnerCity Mission for Children envisions a "world in which orphaned, deprived, excluded and vulnerable children in the inner cities live free of poverty and fulfill their potential, thus becoming responsible and self-reliant adults, profitable to the society." InnerCity Mission for Children initiatives benefit children living in poverty by delivering sustainable solutions giving them hope and a future. The phrase "Every Child is your Child" was coined by Chris Oyakhilome, who believes in creating a community of support for all children in the inner cities. Education and influencing positive change are also acts of love.
Education with the Chris Oyakhilome Foundation
Street children, orphans, and children from poor or low-income families are deprived of essential necessities such as education and are at risk of inheriting poverty due to economic pressures.
Rather than being in school, these vulnerable children are forced to enter the labor force just to survive, in such times education takes the back seat. Every year, The 'Back to School' campaign helps thousands of disadvantaged children get access to basic primary education for free within their communities by providing them with "back-to-school" kits which include notebooks, school uniforms, backpacks, shoes, stationery, and sometimes, tuition.
As a result of violent crises or natural disasters, displaced children may have missed out on months or years of education. To help them bridge the gap of lost school time, the InnerCity Mission collaborates with the Government and other humanitarian partners to provide these vulnerable children with safe learning spaces and school supplies which are essentials to accelerate education.
The InnerCity Mission Children Learning Center (CLC) serves as a beacon of hope to vulnerable children, disadvantaged families and a valuable asset to communities by directly providing a wide variety of programs and services, including psycho-social services to children affected by violence, to equip them with coping mechanisms.  There is also a service to provide at least one nutritious meal or snack pack for each child, as there are many children who go to school hungry.
Every child has a dream, even children in the most forgotten places. The InnerCity Mission together with Chris Oyakhilome Foundation International is helping indigent children who cannot afford online learning stay ahead in their education just like their counterparts. There are children that can't go back to their dusty classrooms and are being left behind as they are not equipped to adapt or transit to new methods of learning. Let's educate the next generation of lawyers, doctors, engineers, and teachers. Education is a right, not a privilege! Every child deserves the opportunity to learn. Help us to take education to needy children who cannot afford online learning at this time.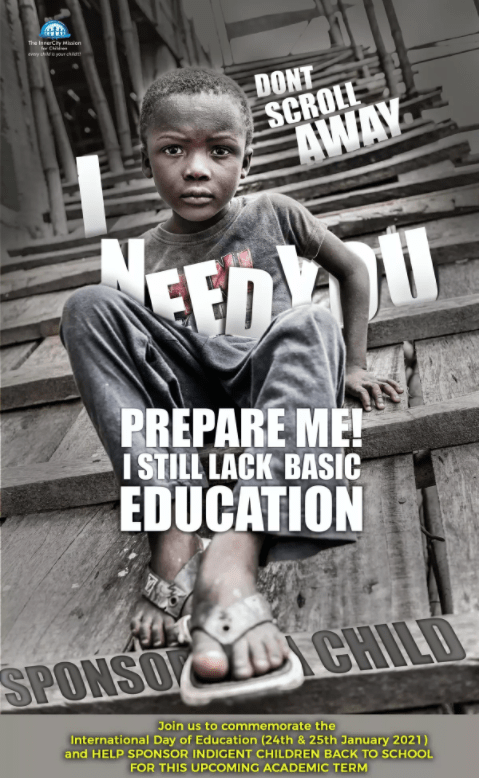 #EveryChildIsYourChild #EndChildPovertyNow