Founded by Chris Oyakhilome in 2008, the Chris Oyakhilome Foundation International (COFI) is aimed at eradicating poverty, providing quality education, promoting economic growth, and responding to natural and man-made disasters, by sending hope relief missions to areas of need.
In February 2023, the nations of Turkey and Syria were hit by a 7.8 magnitude earthquake which affected over 18 million people throughout the border region leaving millions in urgent need of aid and healing.
In response to the devastation caused by the earthquake, COFI sent 2 Hope Relief Missions.
COFI responded swiftly to the victims of the earthquakes through its Hope Relief Mission distributing over 5000 boxes of relief aid to victims in five different cities at the epicenter of the earthquakes.
The team also spent time carrying out humanitarian work and meeting with government officials.
The initial relief effort by COFI in Turkey revealed a number of people residing in the IDP camp who were suffering from depression, frustration, and emotional anguish.
This prompted the members of COFI to facilitate a relief campaign that integrated psycho-social support services alongside vital relief provisions.
The COFI team revisited the earthquake victims in the nation of Turkey in an intervention tagged, Hope Relief Mission 2.0.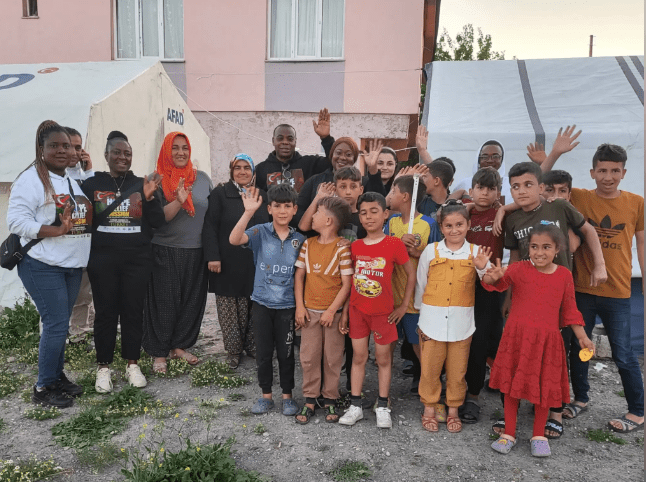 Our heartfelt prayers go out to the people of Morocco
On Friday night thousands of people were affected by yet another earthquake, this time in Morocco.
With a magnitude of 6.8, this quake is Morocco's deadliest in years. Not since 2004 has the country seen a comparable disaster, when a 6.3-magnitude earthquake claimed 630 lives when it struck the port city of Al Hoceima.
According to the US Geological Survey, this earthquake was the most powerful one to shake the area around Marrakech in over 120 years.
The death toll has surpassed 2000 and is rising constantly, there are also reports of thousands of people in critical condition.
Messages of hope and prayers have been flooding in for the people who have been affected by the devastation.
"Our hearts go out to the people of Morocco, who are suffering the effects of devastating earthquakes that have caused a tragic loss of life, injuries, and damages in the areas south of Marrakech," one of the messages read.
Recovery and relief efforts following the powerful earthquake in Morocco have entered a "challenging" period but there is still hope of finding survivors, a spokesperson for the UN's Children Fund UNICEF told CNN.
"Any humanitarian response is always complex, complicated, and challenging. I think this will be very much so," said Joe English, an emergency communications specialist with UNICEF.
"The first 72 hours in terms of search and rescue are absolutely critical… They call it the 'golden period' because if you're going to get under rubble, that will be the time to do it (and) sometimes we see miracles."
English said many families who had fled their homes with "just the clothes on their back" had spent a second night out in the streets of Marrakech, the largest city near the epicenter of Friday's quake.
Children have seen their schools and homes destroyed and are now living out in the streets without any shelter," English said.
"We will be here all the way through and will support children and their families after but we can't do it without public support and donations – all of this is actually critical… in terms of getting (survivors) safe drinking water, shelter and food in the longer term."
Rescue teams are reportedly having difficulty in reaching the most affected areas, with roads blocked by debris. One witness said, "We are hoping for miracles from the rubble."
More first-hand accounts are emerging as search and rescue teams on the ground in Morocco race against time to find survivors.
Carmen Merino, a humanitarian worker, was vacationing in Morocco when the earthquake hit. She told CNN's Jim Acosta that she was caught off guard by the earthquake's impact and magnitude.
I heard people screaming… Lights were all off inside the airport and buildings. And then, very quickly, I (recalled other) experiences earlier this year (and) realized it was an earthquake. But honestly, I didn't think it (would hit) this hard, with that high a magnitude."
Our heartfelt prayers and blessings go out to the people of Morocco, and we pray for their resilience and recovery.