What is World Health Day about?
Every year on the 7th of April, World Health Day is celebrated around the world, to promote a healthy lifestyle and diet to boost overall well-being. The WHD is organized by the World Health Organization, and, as every year, they give priority to a specific theme.
The theme for World Health Day 2020 is to support nurses and midwives and recognize the critical and vital roles that they and other health care workers provide. Nowadays, they are working at the forefront of COVID-19 response, providing care, medical assistance, and treatment, and without them, there would not be any response.
The WHO highlights the status of nurses and midwives globally and aims to strengthen the workforce worldwide. This is critical in order to achieve national and global targets related to universal health coverage. This includes maternal and child health, infectious diseases, emergency response, patient safety and many other health care issues.

Support the Real Heroes
The Chief Executive Officer of the International Council of Nurses, Howard Catton, said during an interview with Newsweek, that one of the biggest problems, during Coronavirus times, is that the rate of infections around the world, is related in part to the lack of personal protective equipment. He added, " We know there is a global shortage, but nurses are the frontline, they are heroes and they must be protected if they are to continue with the unique lifesaving work that they are doing."
Today, during a global pandemic, the World Health Organization is calling for your support on this day, to ensure that the nursing and midwifery work forces are strong enough to guarantee that everyone, everywhere gets the required health care.
Support Health Care
One of the primary focuses of COFI is healthcare. COFI understands that being healthy is central to human happiness and well-being. One of our missions is to ensure that everyone has access to primary healthcare as in many developing countries, more than half the population is young people who are important contributors to economic growth.
Support Volunteer Medical Corps
One of our partners, the Volunteer Medical Corps, is a global Christian medical outreach committed to providing medical care to the community in desperate need in regions of crisis. To join in your city where you can make a difference visit our website https://www.volunteermedicalcorps.org/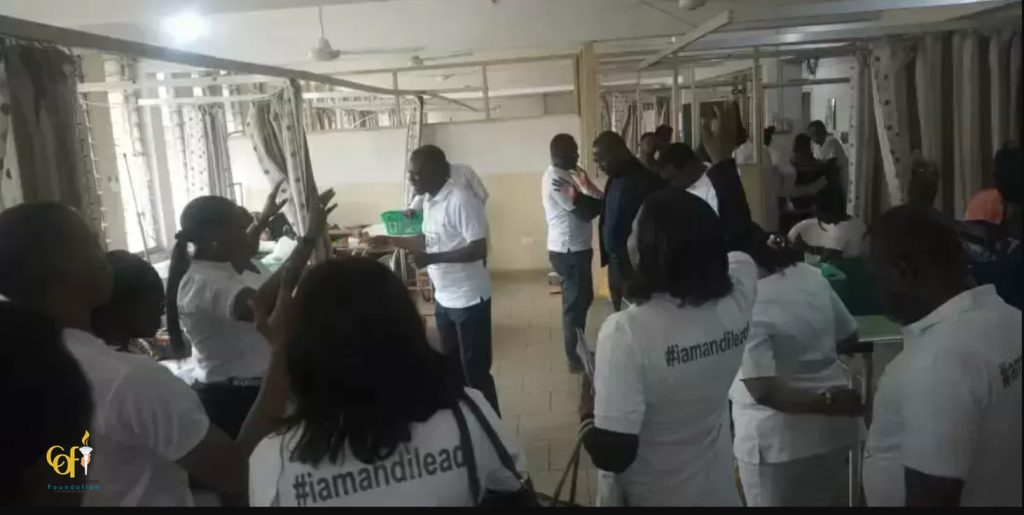 Members of the VMC Pietermaritzburg and Environs Chapter visited Jikajoe Settlement in Pietermaritzburg in South Africa, to deliver a health talk on COVID-19 prevention through hand washing and other sanitary and hygienic practices.
How to show your support according to WHO:
Show nurses and midwives your appreciation for their work and thank them for what they do to keep us healthy.

Call on local leaders to do more to support nurses and midwives and make investments that enable them to work to their full potential.

Invest in nursing and midwifery education and employment so universal health coverage becomes a reality everywhere.

Strengthen and pay more attention to nursing and midwifery influence and leadership: health services will improve as a result

Take steps to improve gathering of workforce data in order to better target resources and make changes where they are needed most.

Show your respect for nurses, midwives and other fellow health workers.

Listen to their views and explore their ideas.
We wish a safe and healthy day to all the medical personnel, who are doing the impossible to keep everyone safe!