As we know, education is a core value at the Chris Oyakhilome Foundation International (COFI), the founder, Chris Oyakhilome is invested in making education available to everyone.
Chris Oyakhilome Foundation International together with the InnerCity Mission (ICM), has just laid the foundation of its 13th Campus of InnerCity Mission School for children in Delta State, which will provide complete scholarships including free school materials and supplies for the pupils.
The Director of the InnerCity Mission School for Children, Pastor Omon Alabi performed the ground-breaking ceremony at the permanent site at the weekend and noted the significance of developing future leaders of tomorrow through education.
At the ceremony, Pastor Alabi said that this was the 13th of the network of schools with 12 in Nigeria and one in India, South East Asia. These campuses embody the philosophy of Chris Oyakhilome who coined the phrase: "every child is your child".
He urged everyone to help those that the world had ignored, believing that if those children were not reached and educated quickly, they would become the source of danger and problems in the future.
Pastor Alabi acknowledged that the InnerCity Mission Schools under the auspices of Chris Oyakhilome Foundation International offer hope to the hopeless and indigent children, promising them a better future. These schools not only offer free tuition for early childhood education as well as uninterrupted six-year primary education for all pupils, but also access to two free meals per day for each child, irrespective of gender, religion, race, and ethnicity.
This particular new school will accommodate children from nine different communities due to its central location. Pastor Alabi told the public at the groundbreaking ceremony:
"On completion, the campus will contain classrooms, assembly hall, Library, cooking kitchen, playground, water treatment plant, school dispensary, and staff rooms noting that the facilities were to make for a conducive learning environment for the pupils and also provide an all-round robust education including study in arts and craft and spiritual mentorship, It is going to be an educational masterpiece."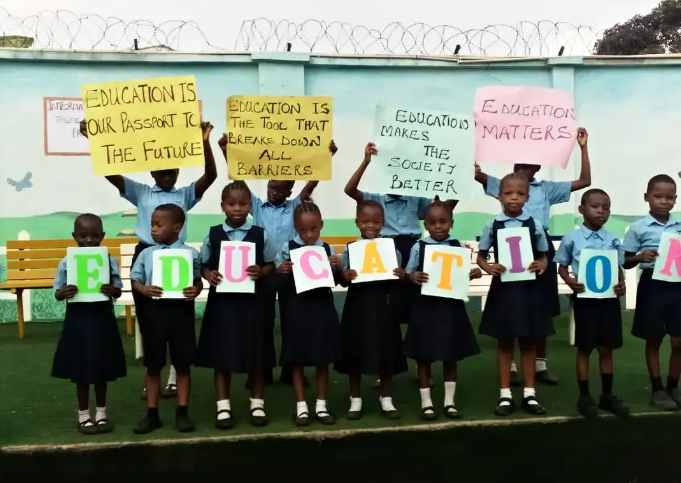 Breaking the cycle of poverty through education
Education is also at the heart of the Sustainable Development Goals, as set by the United Nations. It has been widely acknowledged that schools can be the direct platform needed to pull families and communities out of the cycle of poverty. Knowledge gives children the power to dream of a better future and the confidence needed to pursue a full education, which in turn will help generations to come.
Poverty and education are inextricably linked, because people living in poverty may stop going to school so they can work, which leaves them without literacy and numeracy skills they need to further their careers.
The effects of poverty on children are wide-reaching and can lead to lifelong struggles, especially when young people don't receive a full education. Education can also break and reverse cycles of intergenerational poverty.
We would like to take this opportunity to thank all our partners, sponsors, and volunteers who work tirelessly to help those that cannot help themselves.
To support this life-changing initiative and make a difference you can give here.