January 2023 has already brought humanitarian aid, community, and socio-economic development through the major contribution of the Chris Oyakhilome Foundation International (COFI).
Passport Processing Waiting Lounge Commissioned
The Chris Oyakhilome Foundation International constructed and commissioned a twin building for an applicants' waiting lounge at the Alausa Passport Office. This building was officially opened on Thursday, January 12, 2023, and the philanthropic actions of Chris Oyakhilome have brought comfort to everyone that will be attended to at the Alausa Passport Office.
Through the Chris Oyakhilome Foundation International, we strive for the improvement of societies, communities, and populations.
Contributing through Leadership
The Future Africa Leaders Foundation is a partner of COFI operating under the umbrella organization founded by Chris Oyakhilome. It is an initiative that seeks to identify, foster, and celebrate young African leaders making a positive impact in their communities. The mission of the foundation is to explore and expand the leadership potentials across Africa because healthy communities and nations rely on strong, innovative leaders to guide them.
We have seen the amazing results of young leaders in their fields who have contributed to their communities and countries through the highly coveted FALA Star Award, which is rewarded with a token prize of $25,000 to encourage the endeavors of the individual who shows the most promise as a youth leader in his or her community.
Last year, 22-year-old student doctor, Lebsey Petmia Lebaga from Cameroon won the FALA 2022 Star Prize Award for her outstanding contribution to humanity. Lesbey who through the year demonstrated exemplary leadership through the use of science and technology in medicine was able to meet the needs of the society in Cameroon at a time it desperately needed her. Lesbey organized several conferences and seminars, impacting the lives of over 8000 young people in Cameroon.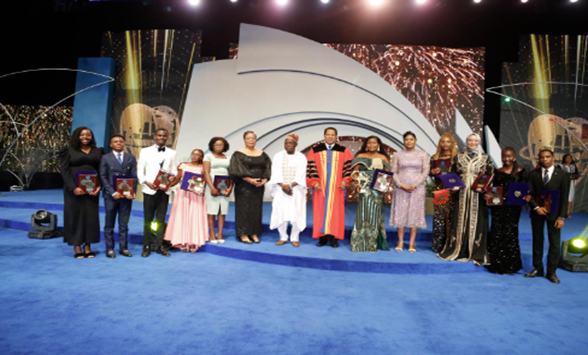 FALF donates 500M Naira
On the 3rd of January this year, the Future Africa Leaders Foundation (FALF) donated 500 Millon Naira to the Chief Olusegun Obasanjo Presidential Library in Abeokuta, Ogun State.
This donation was made as former President Olusegun Obasanjo received the 2022 Winners at the just concluded Future Africa Leaders Award which was held on New Year's Eve, where he chaired and also introduced Noble Laureate Leymah Roberta Gbowee as a special guest of honor.
The COO of Loveworld Inc, Pastor Ifeoma Chiemeka, speaking on behalf of COFI at a recent press briefing disclosed that the library is a historic, tourist, and academic center established as a national archive for the preservation of documents and materials.
She continued to say that the library was "established for the purpose of deepening democracy, engaging the citizenry and also to seek the enhancement of transparency and accountability to ensure the policy choices of Nigeria and other African countries are better understood is in line with the ideology of Reverend (Dr.) Chris Oyakhilome, hence the need to support its further growth for future references."
Speaking on the impact of the Chris Oyakhilome Foundation in contributing significantly to a new Africa, she highlighted that: "Aside from mentorship and provision of facilities for the most vulnerable in communities across the African continents, we also have over 2000 youths who are currently under our educational scholarship programs."
"The foundation fosters these young leaders through training and support initiatives aimed at helping them to achieve their full ability and to use their leadership skills to improve the lives of others."
"This program seeks to recognize, promote and award young men and women whose exemplary leadership skills have been utilized in developing solutions to issues addressed in the United Nations Sustainable Development Goals: no poverty, no hunger, quality healthcare, quality education, gender equality, sanitation and hygiene, renewable energy, jobs and economic growth in Africa."
The 2021 year's Star Prize winner, Nervis Nzometiah Tetsop, had this to say about the program, which gave him a voice:
"Through its programs, the Future Africa Leaders Foundation hopes to empower African youth to be leaders and change agents acting to find solutions to challenges facing their various African societies. Their acts of service have a powerful impact on their communities, nations & societies."